I was very happy to find TIMEX, the module that outputs 10v ramps synchronized with the real actual clock time outside the computer - one ramp each for each second, minute, hour, and the entire day.
I discovered a primitive way to create a trigger at a given time, pictured here, using a couple handy Count Modula modules: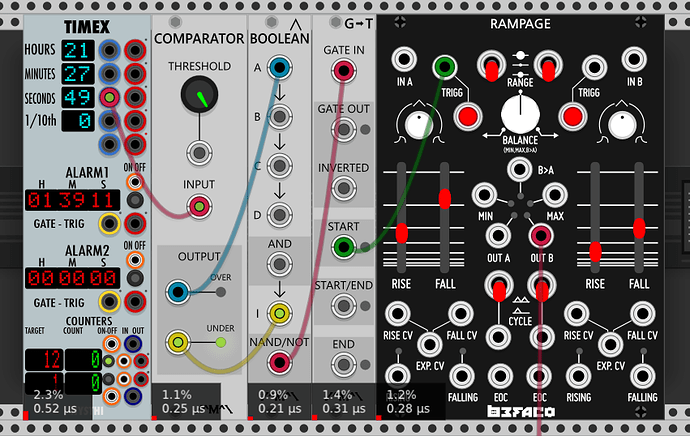 To use this: Convert a time of day to 0-10v (e.g. as I type, the time is 9.0334V); Set the Comparator threshold to this value; when the Timex ramp exceeds this value, the Boolean module turns it into a very short gate, which the G->T converts to a trigger. The trigger will do whatever I want it to do at 9:40 PM.
So: Is there an easier or more efficient way to schedule things using the output of Timex? I would love if there were a single module that could output a trigger when a given CV is received. Bonus points for an array of these in a single object. Has anybody found efficient or interesting ways to put this module to use?