Venom Modules Beta 2 is now available at VenomModules/README.md at main · DaveBenham/VenomModules · GitHub
The biggest change is the added support for themes - there are 4 to choose from: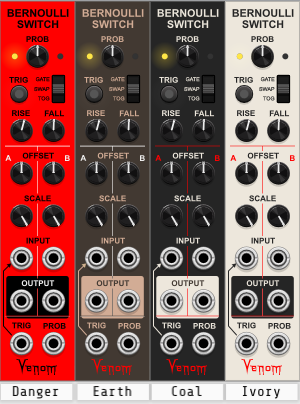 I have also added RECURSE STEREO - a stereo version of the RECURSE module.

Technically the original RECURSE module is no longer needed, the stereo version is perfectly happy processing one input and output using the Left channel only. The stereo version uses a tad more CPU, but I think it is inconsequential. I also think the stereo version may be a bit more confusing if you don't use the stereo capability. I'm curious, what do others think? Should I keep both versions? Or should I just have the stereo version and rename it to RECURSE?
I've also enhanced the behavior of the Rhythm Explorer Mode buttons and CV input. The CV now updates the displayed value in the buttons to give you visual feedback. I also fixed some bugs in Rhythm Explorer.
Now that the themes are in place, I hope I can get some feedback as to the functionality of the modules. Which ones have you tried? Are they useful? Are they working properly? Is the documentation clear? Or any other feedback is welcome.
Unless I get reports of some bugs or significant design flaws, I think I am almost ready to submit the plugin to the library.