Edit: Important, as of VCV Rack v2, the method described in this post is no longer valid. It can still be done, but only for VCV Rack v1
---
I got some question over at youtube and via dm, about my integration of VCV Rack and Reason.
SInce the release of the Reason Rack plugin, it is possible to load Reason as a plugin inside VCV Rack. This might not always work as smoothly or serve the purpose.
There is also another way of using VCV and Reason together, by using VCV Bridge. However keep in mind that VCV Bridge is not officially supported anymore and might be dropped once VCV 2.0 is released.
For now here is a small clip showing how i use it in combination with sending a sync pulse through bridge to VCV Rack, with the help of the super solid Expert Sleepers - SW Sync plugin (not free).
You can setup a sync pulse in many ways, simply also just using a pulse wave loaded in a NN19 sampler, or an LFO tool that reacts to Reason start/stop.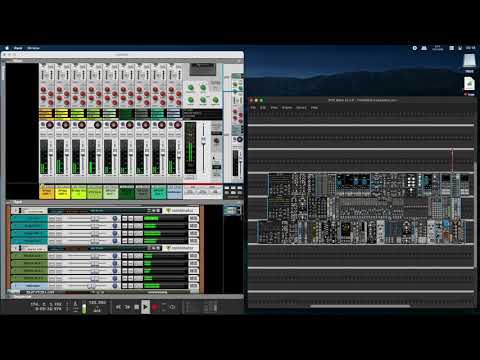 This is by no means a finished track or song, it is just something i was noodling with in VCV and added a breakbeat that i programmed in Reason ReDrum.
Reason is receiving the group channels from Mind Meld Mixmaster and the AUX channels. And a kick track.
Eventually this could be recorded to audio tracks in Reason, for further mixdown and processing etc.
If you have any questions feel free to ask here.