Hello,
I'm interested in porting over some DSP code I've written for embedded processors over the last couple years but I'm struggling to successfully compile the tutorial module on the VCV site (this one: VCV Manual - Plugin Development Tutorial).
Compilation isn't necessarily the issue, rather, what happens after compilation:
An issue with the helper.py script not grabbing the correct coordinates from the .SVG file. This leads to things being placed incorrectly on the front panel.
For example, the LED in the example is located here: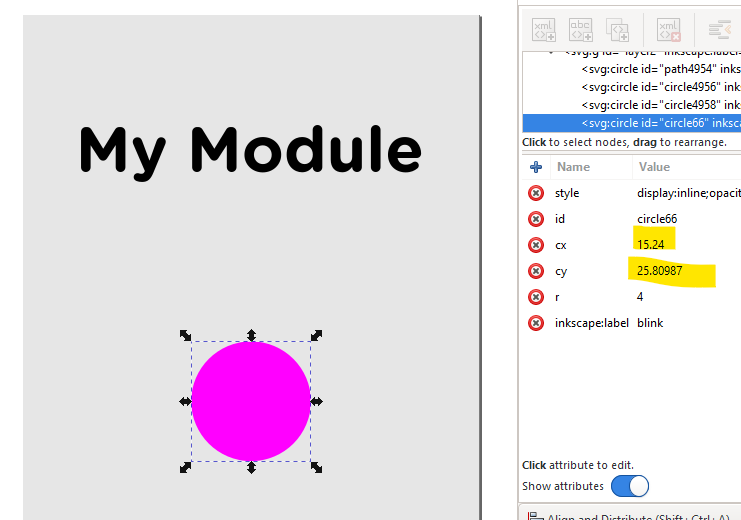 But the code places it in the wrong place:

		addParam(createParamCentered<RoundBlackKnob>(mm2px(Vec(5.161, 15.6)), module, MyModule::PITCH_PARAM));

		addInput(createInputCentered<PJ301MPort>(mm2px(Vec(5.161, 26.239)), module, MyModule::PITCH_INPUT));

		addOutput(createOutputCentered<PJ301MPort>(mm2px(Vec(5.161, 36.817)), module, MyModule::SINE_OUTPUT));

		addChild(createLightCentered<MediumLight<RedLight>>(mm2px(Vec(5.161, 8.741)), module, MyModule::BLINK_LIGHT));

Here is the output in VCV rack - the components are not correctly placed:
The second and more major issues is that the module runs the first time after make install but then crashes if you delete the module. Then it crashes VCV Rack every time it loads.