This took me a while to figure out, so this is as much documentation for myself when all is lost, as hopefully a way to help someone else.
This will get Bitwig and VCV to talk both ways through control voltage. It will use JACK as the mediator.
Getting JACKed:
First thing is to download and install JACK: Downloads | JACK Audio Connection Kit
During the installation, you'll be asked what components to install. Make sure "JACK-Router ASIO Driver" is selected: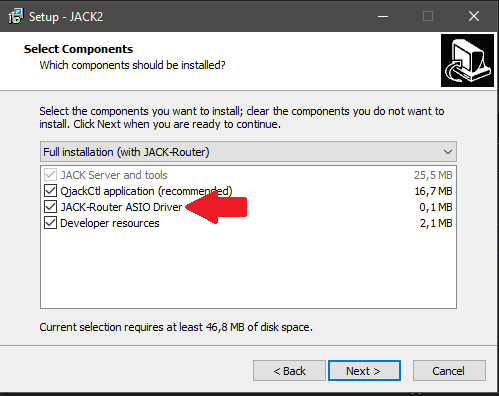 Keep "QjackCtl application" selected as well and complete the installation.
(Not sure if a reboot is required, but i'm always in favour of "better safe than sorry")
To make sure nothing goes haywire, i'd advise you to start VCV Rack, initialize a new patch, and point your Audio-8 module (or -16, you'll learn to love it) to:
Driver: ASIO
Device: (No Device)
And close VCV. It tends to get mad otherwise…
Configuring JACK.
You should now have QjackCtl in your startmenu. Run it and bask in the glory of fresh and modern UI design!
Press the "Setup" button on the right.
In the "Settings/Parameters" section, select the appropriate interface, samplerate and frames/buffer (buffersize):

If have not messed with the "Settings/Advanced", "Options" and "Display" sections.
Some changes in the "Misc" section for ease of use: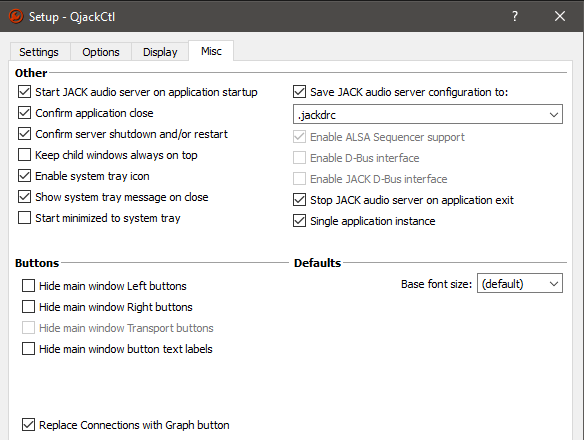 Press "OK" and you're done here (fingers crossed)
(cont.)