VCV Rack Pro is now available for VST3, Audio Unit, and CLAP. Get it for only $129 before November 30.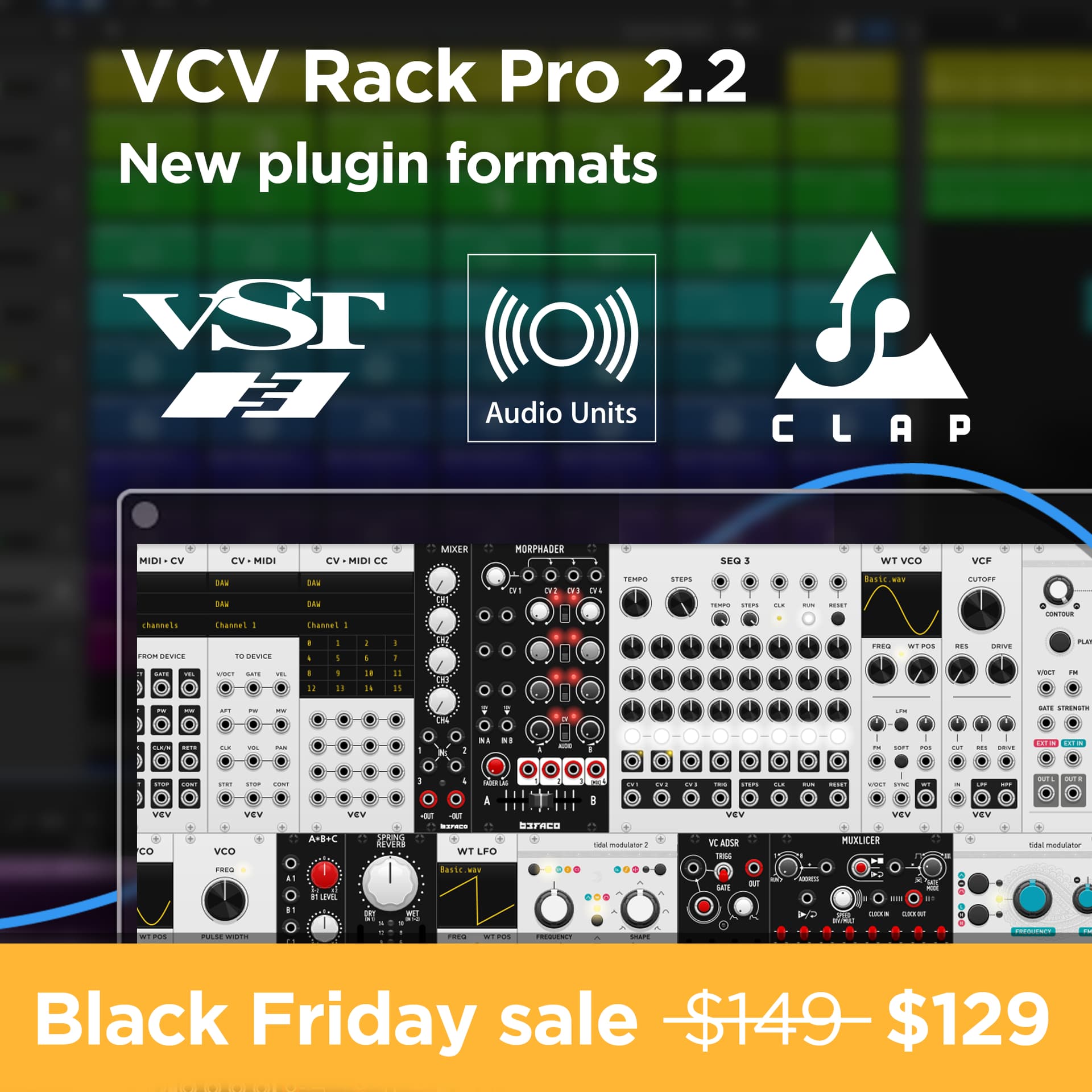 I just updated to 2.2 and it can not find any of the SurgeXT mods used in a previous patch. Also, the SugreXT mods do not show up in the library browser.
please send an email to support about that, and don't hijack this sweet announcement thread.
Congratulations! I'm about to buy but can someone confirm that AU has multichannel outputs?
The AU does not work! It even does not open a Window! Do not waste your money like me!
you have been very angry at VCV for like two years now? Maybe you should try some different software, get some music made?
So sorry to hear! Thanks for the reply at least.
Is it really to much to expect that a software you payed for should work as anounced ?
Ok so I bought it and it does work (also with multichannel) in Logic but only after launching in Rosetta mode.
Christmas came early! Thanks @Vortico and everyone contributing to this. The change log reads like a summary of most discussed topics/wishlist from the last months

did you download the ARM version of VCV or the Intel version?
I just tried the ARM version and it's true it doesn't work at all in Logic.
I will post it to support but in the past I have not gotten great response from that. I knew this would be seen.
I got excited but now I have three plugin formats that don't work in Bitwig on linux.
Edit: actually, only 2, the vst3 doesn't even show up. From what I've seen with other VST3s the plugin.vst3 is a directory with the following structure:
plugin.vst3/Contents/x86-64-linux/plugin.so
Rack's vst3 is just an executable called VCV Rack 2.vst3, is this a mistake?
I had to grab the latest nightly build, that works here on 2.2 (x64 version for Mac)
Don't know about the file structure on linux (on windows it's a flat file "VCV Rack 2.vst3")
does your bitwig list any errors in show dashboard … settings…plugins…"show plugin errors" ?

No, nothing for Rack in there.
Same here on Ubuntu 22.04, Bitwig 4.4.3. The usual metadata error on the vst2, the vst3 doesn't show at all, the clap has a slightly different metadata error:
com.bitwig.flt.library.metadata.reader.exception.CouldNotReadMetadataException: could not read metadata: Failed to initialized CLAP plug-in /home/tim/.clap/VCV Rack 2.clap: clap_plugin_entry->init() returned false
Yeah, exactly the same message for me.
Curious if clap info gives you an info dump or a clearer error?
(I can't test since I'm traveling with mac only and run 20.02 still anyway but it does share a dl error if there's a failure to load)