With the Ableton Live 11.1 new Apple M1 compatibility, the VCV Rack didn't work :_(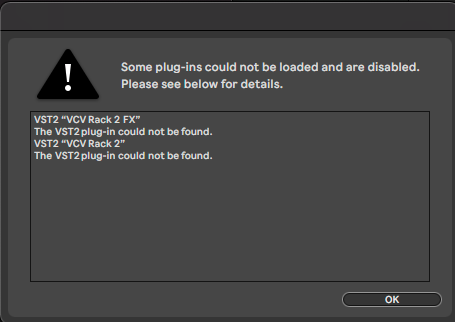 Same here. Also Standalone won´t open (Win 10)
VCV Rack and all its plugins are for Intel architecture. They run great on the M1 because of Rosetta2. If you are running an M1 native (not Intel) version of Ableton then it needs to be able to explicitely load Intel architecture plugins. If it has that feature it should say so loud and clear on their website. If it does not have that feature you can't use it with Rack or other Intel plugins, and you will have to use the Intel version of Ableton.
I know the new M1 native version of Bitwig are advertising this feature but I haven't yet heard how well it works.
Missing plug-ins (Universal/Silicon-native build)
When used on an Apple Silicon computer, the Universal build of Live 11.1 only recognizes VST2 and VST3 plug-ins natively compiled for Apple Silicon.
Translation for OP: Which means that it doesn't have that mixed-architecture feature that Bitwig has, and you can't use this version (the universal build) of Ableton for Rack VST, or many/most other VST's for that matter.
Thanks guys! We must wait for a new version o VCV Rack 2 with Silicon-Native build ready… :___(
No, just use the Intel version of Ableton and it will work fine. But of course, if/when Andrew will make an Apple Silicon/ARM version of Rack and all the plugins then we might get even more performance.
Just a thought, if VCV Rack 2 was also an AU (Intel) plug-in then we wouldn't need an ARM version for the moment, and we could run the ARM native version of Ableton Live 11.1. I guess Logic users are totally out in the cold. It certainly is an odd decision for Ableton to only provide simultaneous ARM/Intel support for AU plugins!
exactly @JaseFOS, macOS already has a bridge for AU plugins.
this is the position Im in with a couple of other plugins (Madrona Labs, looking at you

)
I suspect, for now, this is what VCV will do , since they already mention other plug in formats. … also this would mean vcvrack could run within Logic Pro X.
for now, I use vcvrack vst in Bitwig… if I feel the need for Live and Bitwig I use Loopback to the standalone.
its not perfect, as Live is my main daw (and im not reverting to intel

) , but it's workable.
---
I do think releasing vcv 2.0 without universal binary support was a mistake…
making vcv support native/universal will require modules to be updates/re-released. this full rebuild cycle was required for 2.0 anyway, so why, make modules developers/user go thru it twice?
… as it is now, when we get universal/native support , we are going to have another round of endless questions on … is module X supporting universal/native binary? when is it coming?
but hey ho, hindsight etc… perhaps it was a bigger undertaking that we imagine (*) , and we are where we are !
---
(*) ive converted a number of my apps to run natively, and it wasn't a big deal… but every app is different… and with a large number of 3rd party modules, perhaps it was more problematic.
At least there ARE workarounds, @TheTechnobear .

Since I'm one of those cross-platform people, I always prefer to use a VST of anything I use rather than a plug-in format that's exclusive to an OS (e.g. AU / DirectX [lol] / etc) and cross-platform DAWs (however Logic is super sexy and immensely efficient). I do own a BitWig Studio 4 license however Live has been my main DAW since version 4. BitWig Studio 4's enhancements make it super attractive for us modular folk, plus the very sensible firewalling of plug-ins and its ability to simultaneously host ARM/Intel Plug-ins in VST and AU formats is very cool indeed. I'm not 100% sold on Live 11 in general (performance on my Intel system is substantially worse than 10), so I installed Live 10 on my M1 Mac Book Air which I'm using for my VCV adventures.
I'm sure it's not a trivial matter to roll out an AU-Intel incarnation of VCV Rack 2 Pro and time is the most precious resource for everybody. Perhaps, for Logic users and others needing an Intel AU, perhaps a wrapped VST could provide a great interim solution?
I'm just super grateful for the time everybody invested in the development of VCV Rack and the immense universe of modules for it. I'm a month into the VCV world (I waited until V2 before getting deep with it - a pro license was this year's Christmas present from my parents) and, at some stage in the future, I look forward to contributing modules of my own. I have so many ideas!
hello I did the Ableton update today and get the same error while I'm still on Mac Intel. I did rescan the vst library and Ableton was able to find the VCV vst again.
Maybe not linked to M1 issue but same behavior Best regards