After adding the module from the library (with no problem) the plugin does not update in VCV 2.4.0 The "Querying for updates" process ends without new upgradings (aka no red point in Library menu). This happens with any Valley module. On the library page I can see the "- Remove" item, as you can see here.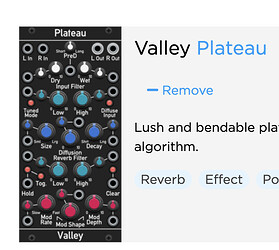 But the module is not present when I try to load it into my rack. Of course I´m logged with the same user in both library page and VCV app. Other modules are updates without any problem. I´m using macOS Ventura 13.4.1 on an Apple M1 2020 and 8 Mb RAM.
Thanks for any advice, I´m a newbee here, but I´ve searched the entire forum and did not get any answer to this.