Here is an early look at an upcoming module: tcArpGen. tcArpGen is part sequencer, part arpeggiator, harmonizer, and delay, so it would be best classified as a Pattern Generator. It uses recursive L-System rules to define the actions that direct the arpeggiators and harmonizers that select the notes to be output.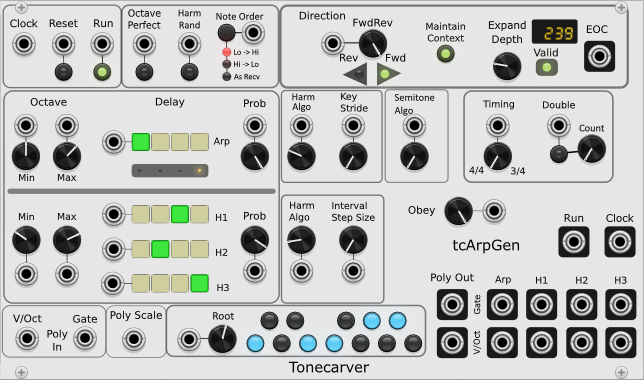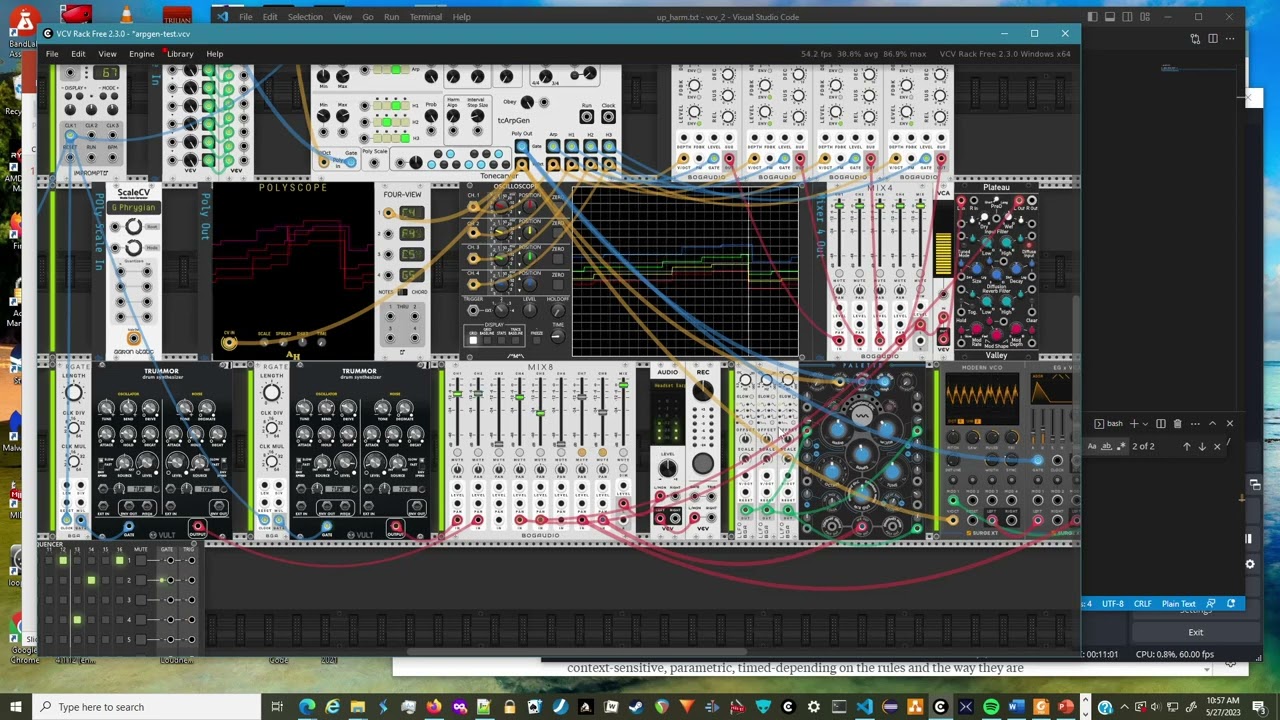 Beta Downloads:
After adding tcArpGen to a patch/project, use the right-click menu to load a rules file so that tcArpGen has instructions on how to process its inputs.
L-Systems:
http://algorithmicbotany.org/papers/abop/abop.pdf
The plant and leaf diagrams generated by L-System rules were the inspiration for the module. Loosely speaking, the height of the plant represents the time dimension and the position of the leaves or branch tips along the left-right axis represent note pitch. It is not a perfect analogy but that is what started the development and exploration. The result is a module that can produce some very pleasant sequences after a bit of tweaking and dialing in.
The L-System rule set is:
  N      play a note (and harmonies if active)
  +      pick the next note in the chord
  -      pick the previous note in the chord
  _      play a rest 

  $h1+   pick the next scale interval for harmony 1  (use $h2 for harmony 2, $h3 for harmony 3)
  $h1-   pick the previous scale interval for harmony 1
  $h1*   pick a random scale interval for harmony 1
  $h1!   set interval for harmony 1 to nominal (0)
  $h1=4  set scale interval for harmony 1 to given value
  
  $s+    pick the next scale interval for the semitone offset
  $s-    pick the previous scale interval for the semitone offset
  $s*    pick a random scale interval for semitone offset
  $s!    set scale interval for semitone to nominal (0)
  $s=5   set scale interval for semitone to given value
  
  $o+    pick next octave offset
  $o-    pick prev octave offset
  $o*    pick a random octave offset
  $o!    set octave offset to nominal (0) 
  $o=-2  set octave offset to given value
  
  [      save context 
  ]      restore context 
  
  {      begin expression
  }      end expresssion

 @funcname
 |  up-down invert
 ~  up-down nominal 

  X(float) = N  + ...         Production Probability