Howdy all!
If you are like me with a love of UAD plugs and have been hoping they would get into rack, I've found the work around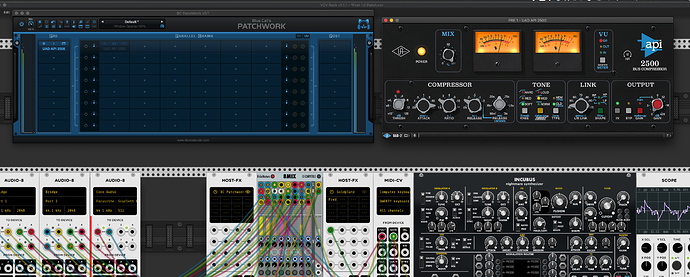 Blue cat patchwork is something I scooped when I had to go back to logic from ableton for some old mixes I was revisiting and really missed the rack functionality of ableton.
https://www.bluecataudio.com/Products/Product_PatchWork/
I had noticed before that in logic it was letting me open VSTs and not just AUs.
It occured to me a few mins ago to try blue cat in VCV Host and sure enough I was able to get my beloved UAD Api 2500 receiving my NYSTHI 2 bus out!
I only had the one plug in there as I needed to immediately share this, but I suspect the uses of Patchwork will multiply exponentially as I start getting it integrated.
Makes for easy bussing and parallel processing!
Cheers!
Stephen