Hello there!
I stumbled upon a problem that I find very weird (and annoying) when trying to sync VCV Rack with external gear. My Audio input comes in quite a bit later than the MIDI signal, although I use a very small buffer.
In this example I have connected a Korg Volca and monologue, the sync pulse from the Volca goes through the monologue and to an audio input of the sound card, the MIDI from the monologue is connected with USB. (Volca and monologue are synced perfectly.)
I had the exact same issue when connecting just a Beatstep Pro, clock pulse on the audio input, MIDI over USB.
This is what I get: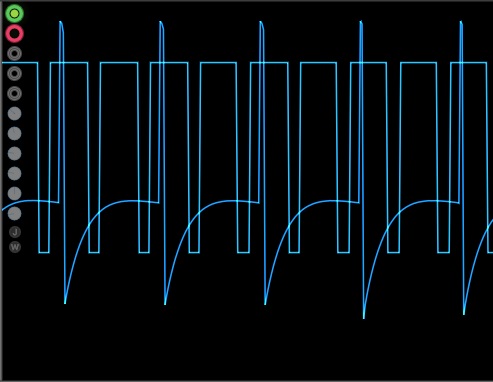 In this picture the clean squares are the MIDI gates, the oddly shaped pulses are the sync signal from the audio. The buffer size of my sound card is set to 64 samples at 48kHz, which gives me a roundtrip latency of 5ms… The Audio pulses are 8th notes, MIDI pulses 16th notes, the speed is 93bpm… The MIDI pulses closest to the audio pulses are definitely the corresponding ones. (The audio is definitely later than the MIDI, not the other way around). I don't know how to measure it exactly, but the difference I see here is more in the range of 100ms and it's very clearly audible and destroys rhythms.
So… how can it be that the audio comes in THAT much later than the MIDI?