I posted this as an answer in another thread but I think its useful enough and will be easier to find if it is a post on its own. If admins don't agree, please feel free to delete…
This is a (Mac) method for syncing clock and transport between Live and VCV using CV Tools in Live to generate a 24ppqn Clock and run trigger and Blackhole to send that Clock and Run to Live as well as to receive 16 channels of audio back from VCV.
Here it is step by step in detail with pictures…
Create an aggregate device (Using Audi Midi Setup application) with built in output (or your interface if you have one) which you will use for monitoring and Blackhole which you will use for sending signals between Live and VCV. This gives a device with 18 outs and 16 ins
In Live audio preferences, set your input device to Blackhole and your output device to your aggregated device (I called mine Built in + Blackhole)
Configure your input settings - how you configure these is up to you - I set up the first 8 inputs as mono and the second 8 as stereo
Configure your output settings - Here I have outputs 1&2 as stereo (for monitoring) and outputs 3&4 (which are for the clock and transport) as both mono and stereo (reason for that in a moment). You can configure more outputs here if you want to send other audio from Live to VCV for processing.
In Live, create an audio track and add the CV Clock out device. Set is as below - 24ppqn and use External out 3 for Clock and External out 4 for the run trigger (this is why we need 3&4 as mono).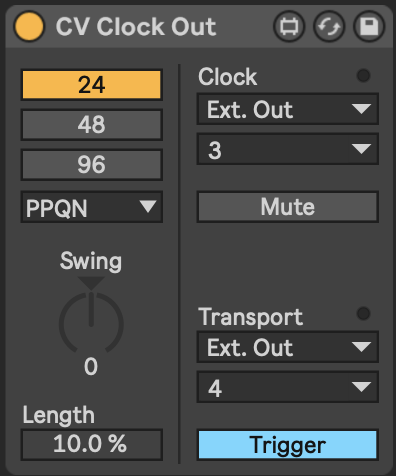 Configure the track settings as below so that the clock device outputs to External Outs 3 & 4 (this is why we need outputs 3&4 as stereo too).
In VCV, set Blackhole as your device in Audio-16 module. Connect the "From Device" jack 1 to the BPM input of Clocked. Set the 'From Device jack 2 to the Run input of Clocked.
Click the Mode + button on Clocked until it says P24
That's it - Live and VCV should be perfectly synced and VCV transport is controlled from Live.