I know there is Inkscape and other great vector tools. I took a slightly different approach.
I like to code and web is one of my many homes. So I used React to create an environment where I code my UI. This can and most likely will be extended to a full editing experience. The window on the right with the Rack Module is Chrome, Just running this on macos in splitview without Toolbar.
Would there be interest in something like this: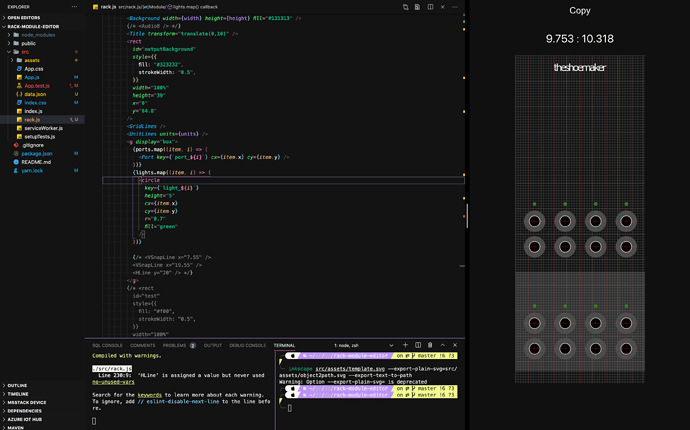 This allows to create interactive components. SVG if you take some time is not so hard to unterstand. You can till create components in vector tools and export to svg then import into your code.
This may be something for users who are more comfortable with code than with design tools. You can even import the ComponentLibrary, but I didn't do that, create your own components or use a Free one like RUIL: Design Library for VCV Rack Modules
The red vertical lines are the rack units. The grey thick lines are 1cm, thin lines are 1mm. The display above is the current cursor position in mm when you hove the mouse inside the Rack Module.
The copy button copies the svg code and you can paste it into a svg file (download could also be implemented). text objects are convert with the commandline using inkscape in headless mode.
I didn't implement a pan/zoom yet (matrix transform on the svg), but I have code I could use for this. Just using browserzoom right now.
Another Idea for this would be to create Interactive manuals