Hi Paul, for testing purposes only, from lastest Nightly (77274f1) Windows, the port #4 (red) doesn't output a LFO signal like other ports, when I bring the QUAD LFO module in rack (I don't touch any parameter), and seems related/affected by AUDIO output module and related ASIO driver selected: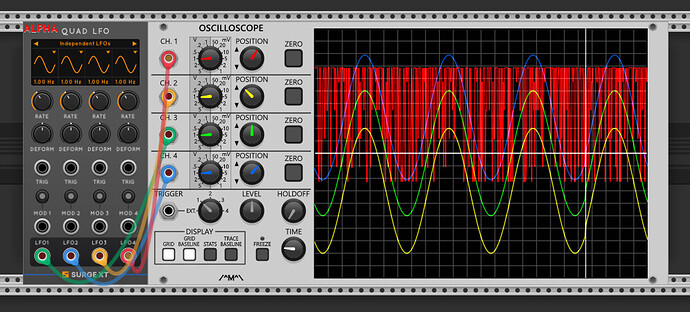 I precise, If I remove the AUDIO module, the red curve (port #4) becomes flat 0V.
Seems fixed when I send a signal (via button) to TRIG inputs, like following picture…

EDIT/ADDED: In fact they are "initialization" issues, and other ports may are affected, too (randomly), for example when I load .vcv patch file.
Small patch in attachment (it uses Counta Modular plugin for button and scope):
Surge XT - QUAD LFO test.vcv (1.7 KB)
Cheers.