V1.1.9 is now available. It includes the new VU meters, a set of polyphonic logic gates, and op-amp comparators.
Hi David. I really enjoy your modules, and I dont think I would be able to make a patch these days without using at least one of them. I was just wondering if you are planning to make a build for Rack Ver2? Sorry if this topic has already been posted.
No. I don't think it's been discussed anywhere else yet.
Yes I will be porting Submarine Free modules to v2.
You've just made my day/year! Thank you. Your modules are awsome.
Progress will be posted here:
binaries are available for beta testing against version 219bbaf1 of Rack v2
I'd appreciate it if anyone with a mac could give it a quick check. I don't have a mac to test against.
Thanks
Everything looks and works great so far on my Mac! Thanks so much!
Thank you for your time.
I've just added expander port to my VM-xxx VU-meters. You can now build polyphonic VU-meters simply by placing several VM-xxx devices next to each other. You can even mix and match the models.
Submarine Free v2.0.1 is out.
2.0.0 was really a beta for VCVRack v2.
2.0.1 is now out and seems stable.
1 known cosmetic bug in changing skins for the TD-410 and TD-510 text displays.
There is 1 new module which is the LA-216 2-input 16-polyphonic Logic Analyser. Exactly the same principle as the LA-108
Hi David, just wanted to let you know that Rack 2.0.3b. crashes, when i move the mouse to any end of the cable connected to SS212 & BGS Switch.
I keep the mouse still hovering above the patch cable connection, and rack explodes after a few seconds.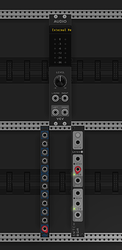 end of the log:
[70.446 fatal adapters/standalone.cpp:60 fatalSignalHandler] Fatal signal 11 SIGSEGMENTATION FAULT. Stack trace:
2: 1   Rack                                0x00000001022c5493 _ZL18fatalSignalHandleri + 275
1: 2   libsystem_platform.dylib            0x00007fff2039fd7d _sigtramp + 29
0: 3   ???                                 0x0000000000000200 0x0 + 512

no other warnings
---
Maybe you know or can see what it is, before i submit a bug to Andrew.
There is a known performance bug with the SS-212, its fixed in version 2.0.2 of the plugin, which is not yet released.
This may be related, so I will try to recreate your issue.
Ah ok, will wait for your findings then

I've not been able to reproduce the issue. But I'm using 2.0.3 not 2.0.3b.
I hope to have 2.0.3b setup today, so I'll give it another test.
However it does seem likely that the issue #175 would be the cause and that this is now fixed.
I have released v2.0.2 of SubmarineFree to the library, it should be available shortly.
Thanks i'll wait for the library update and see if it is fixed.
Should be in the library now.
Thanks David,
i just checked it, and it seems fixed now

Phew.
It needs to change the label on the output when you change the octave. But it only needs to do that once, not 44,100 times a second.

Stupid mistake.