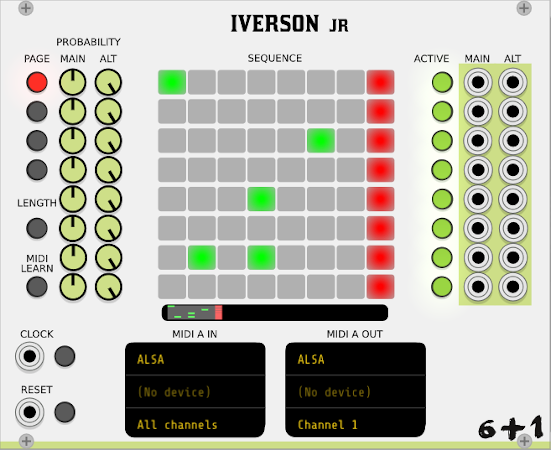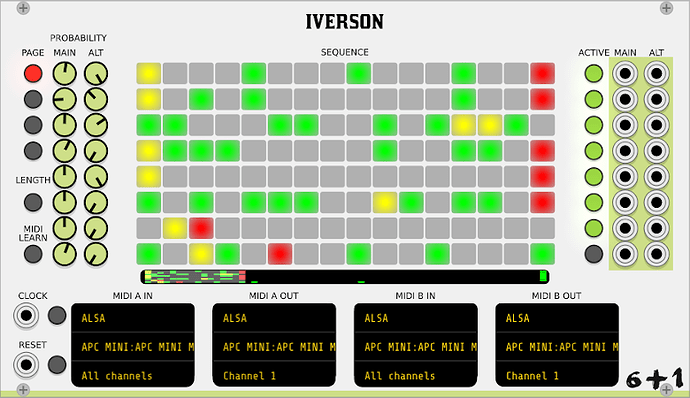 Latest builds: https://github.com/StudioSixPlusOne/rack-modules/releases/tag/RC1.1.1.3c
Here at Studio Six Plus 1, we have been busy with our next module, a trigger sequencer for use with midi grid controllers such as the APC mini, and other similar grid-based devices. It is still in an early beta stage but is stable to use, I have been using it for all my jams for the past few weeks. I am posting here as an early beta, and welcome any feedback or feature requests. Downloads can be found: https://github.com/StudioSixPlusOne/rack-modules/releases/tag/RC1.1.1.2
It can be used with a single controller, with 4 tracks, or two controllers to give 8 tracks. All controls can be midi mapped, and clicking on the preset option in the context menu reveals presets for APC mini and launchpad. I only received delivery of a launchpad a few days ago, and additional work is required to take advantage of the colored feedback, and the mapping of additional controls. As this is mappable to various controllers I would be interested in feedback of compatibility, and when closer to release if anyone would be so kind to share mappings I could include with the release if you so wish.
The sequencer is 8 tracks, each track can have its own length, up to 64 steps. The length can be set by pressing the length button and selecting the last step you wish to include. Track active buttons are included, these would normally be labeled mutes, but due to the green LED's on the APC I opted for the unusual convention. Page buttons to allow navigation of the 64 steps are provided and are mappable. External controllers reflect the current pattern, step, and track length, and the UI provides an overview of all 64 steps.
No internal clock is provided, but the external clock signal is forwarded to the active outputs, allowing for pulse width to be controlled by the external clock.