Congrats Ben!

Your plugin is a freakin' game changer, we're so lucky to have it. Thank you so much.
Have to completely agree with this sentiment!
The next version 1.4.0 of my plugin has reached the VCV Library! It includes a new module called INTERMIX. As always I am a bit behind on the manuals for the modules but I promise improvement

INTERMIX - a precision-adder matrix with 8 inputs and 8 outputs
Support for 8 different scenes
Various input-modes, e.g. constant voltages
Supports fading between scenes with adjustable time for fade-in and fade-out
Optional visualization of input-voltage on the switch-pads
Compatible with MIDI-mapping
Very low CPU-usage
The full changelog for version 1.4.0:
Upcoming in the next version 1.5.0: Dark module panels and much more

Call for testers and opionions on upcoming v1.5.0 of PackOne!
I have been working on a few new modules and I hope some of you will test them and give me some feedback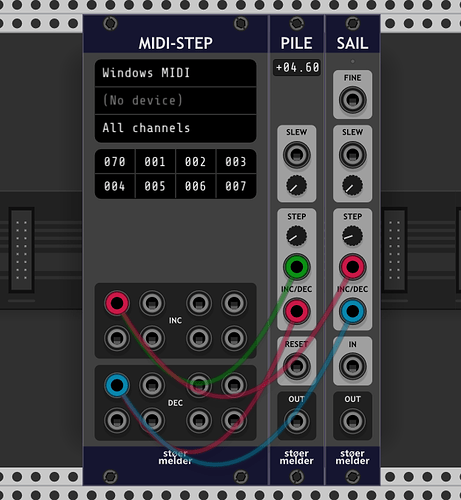 MIDI-STEP is intended for relative MIDI protocols of endless knobs found on Beatstep Pro or Native Instruments controllers. It outputs triggers on INC or DEC on knob-twisting.

I don't own a Beatstep Pro so I couldn't test anything myself but is seems to work quite smoothly in relative mode 1.

PILE is an utility module which translates increment or decrement triggers in absolute voltages. It supports slewing the output voltage. RESET allows you to reset to a specific voltage which is used as starting point for increments and decrements.

SAIL is one of these crazy modules that stoermelder's PackOne is known for: It allows you to control parameters by hovering above them with your mouse pointer. Just imagine following: Add MIDI-CC and patch it to IN of SAIL. Then you can control any knob in Rack with one of your MIDI controller's knobs as long as your mouse pointer hovers above it

Voltage range for IN-port is 0-10V
Differential mode adds delta-movement to the parameter's current position on voltage change on IN
Absolute mode sets the parameter to the absolute position as soon the voltage changes on IN
INC and DEC allows incrementing and decrementing the current position, especially useful with MIDI-GATE and its keyboard driver (increment or decrement with keyboard events) or my new MIDI-STEP module and an endless knob on your MIDI controller
High voltage (>=1V) on FINE increases the precision by factor 10. Can be patched to MIDI-CC and used with a push button on your MIDI controller for high precision adjustments.
SLEW adds exponential slew on the parameter's changes. It has been said that it adds a nice analogue feel to Rack's knobs
OUT outputs the parameter's position in 0-10V. Can be used for MIDI feedback if you patch it to CV-CC and send it to the same CC.
Multiple SAIL modules can be used the same time, so it is possible to use one knob on your controller for relative control, one knob for absolute control and one knob for fine control.
These modules are not available in VCV Library yet as they are still in development. You can download the most recent builds linked below and follow these instructions.
Stoermelder-P1-1.4.ecb4b33-lin-20200112.zip
Stoermelder-P1-1.4.ecb4b33-mac-20200112.zip
Stoermelder-P1-1.4.ecb4b33-win-20200112.zip
I like your new color scheme.
Unfortunately, I have some sort of primal aversion to light blue.
Yes, there will be a dark panel theme for all my modules in the next release

This will be super useful. Having hardware knobs vastly improves the experience of Rack. But remembering which knob (of many) is assigned to what (with no labels) is no fun.
Agree with Jon. Sail sounds amazing for a quick workflow boost without lots of tedious setup. The flexibility of being able to change the mapped parameter with a quick mouse move will be terrific. Great idea Ben!
So excited about SAIL; this is my preferred way of working, and it's very rarely implemented. Thank you!
I don't understand why mapping every knob ever became the norm. It never feels like hardware anyway.
If there is ever some kind of vote (& award maybe?) for best free modules, I'm voting Ben

PS. Can we hover & mousewheel?
Hmm, I don't know but nice idea, I'll take a look!
I have a normal Beatstep and a Nektar P1 here will test both!
Hmm, I don't know but nice idea, I'll take a look!
Sorry, not possible. Only the currently hovered widget (and Rack itself) can handle this event.
'Course now I have 63 MIDI Fighter Twister knobs I don't need.

PILE / SAIL work flawlessly as far as I can tell. Amazing work Ben!!

I'm in the same boat! My MFTwister will totally be used differently from now on. This is just too convenient!!!