Maybe @synthi has an idea. I'm using Nysthi Confusing Simplers as buffer recorders. Recording gets turned off and on by slow clock pulses, and left to free run, so you have some semi-chaotic repeats of past note information.
All well and good but the transition playback->record and record->playback always comes with a click, even with ANTI-CLICK turned all the way up.
I'm not asking for record & playback to crossfade in and out (though that would be cool!) but it would be cool if those transitions were de-clicked.
So the question is: Is there a way to do this kind of live sampling and playback without clicks already? Or is this a feature request?
Second question: Is it just me or is this user interface/labeling confusing? It says 'In R' right over the record toggle input: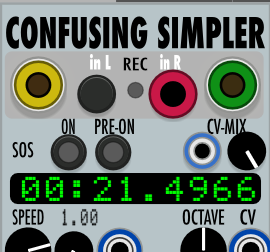 2019-12-16.vcv (58.9 KB)