short demo video where I show how you can achieve some great integration between Rack 2.0 VST and "The Grid" in Bitwig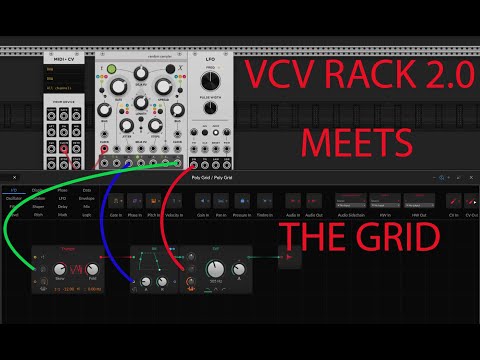 I show this in a Poly Grid, but obviously can also be used inside the FX Grid
@Omri_Cohen you could have done something similar in your 'release party' video, when you wanted to duck the Bitwig audio, based on drums in VCV.
simple stuff, but I hope someone finds it useful and sparks some ideas.
---
edit: a couple of things I should of mentioned for those not so familiar with Bitwig etc.
to get extra outputs for vcv
add audio 16 module in vcv then right click on vcv vst device in Bitwig , and select "add missing chain" this expands all the outputs
to split stereo signal in "The Grid", I use the Mix/Stereo Split module in the Grid to split the stereo to two tracks

this method vs midi
I should have pointed out, that this of course is audio rate modulation, so can be used for any type of signal audio or cv, and is sample accurate (or should be

) … so can be used for things like am/fm , ducking… its also 32bit (compared to using midi which will often be 7bit), so is basically continuous. (so what you would expect of CV vs midi

)