I came across this the other day, harmonic motion phasing polyrhythm fun and having made my own experiments of that kind a fairly long time ago I wanted to give it a shot in VCV. First instinct was to set up a bunch of clocks, all with 1 or 2 bpm difference: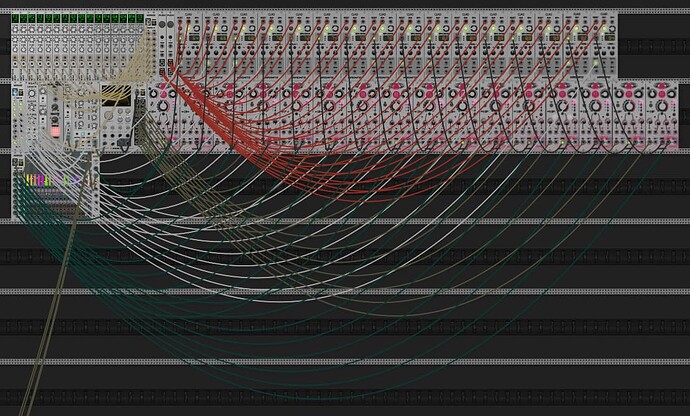 … which worked very well, short video with oscilloscope shenanigans here. Things phase out of each other, but relations, patterns and rhythms emerge, until the cycles complete in a way that all triggers meet again.
But I wanted to use an LFO, which I had used back then: feed a spread of equidistant values to make it go at different speeds which eventually relate to each other. And I'm thinking that should be straightforward. An input of 1 v/oct makes it twice as fast as 0, so I if I do this…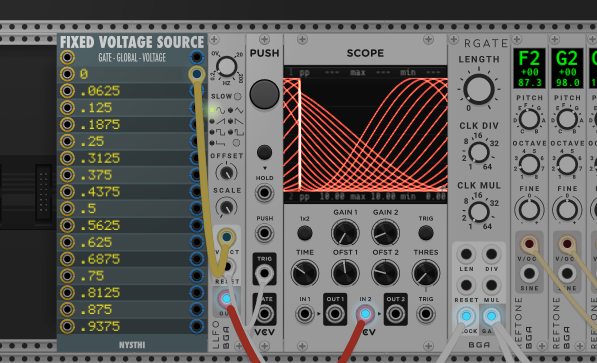 … it should do trick, but it doesn't. Starts off nicely, screenshot is just after the reset, but it kind of falls apart after a short while. There are absolutely no patterns in the audio and I have two of Count Modula's polyphonic utilities in the patch - those leds scream Random.
So I'm wondering if I maybe not quite understand how an LFO's v/oct input relates to its frequency or what else is going on. Which is including possible brainfarts.