I'm pleased to announce that the pachde (#d) HC-One beta release is ready for download and testing on all supported VCV Rack platforms (Windows, Linux, Mac and Mac ARM (M-1)).
HC-One is a plugin with modules for working with Haken Audio's Eagan Matrix hardware devices. These devices include the Haken Audio Continuum, ContinuuMini, and Eagan Matrix Module (the Eurorack module), and Expressive E's Osmose. If you don't have one of these devices, this plugin is not for you.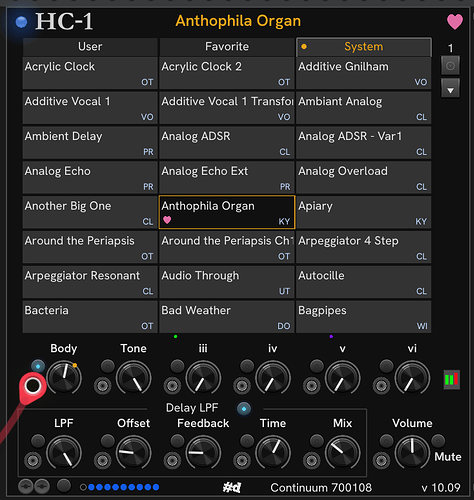 As you can see from the screen snip, You have instant access to any preset on the device, with the ability to create your own list of favorites, whether they're custom User presets or System presets. You can save and load different Favorite files, making this suitable for managing set lists for performing with your Continuum or Osmose.
In addition to preset management, there is CV automation of Macros, the Recirculator, and the Master volume (with muting).
I plan to add extender modules for access to most of the functionality of Eagan Matrix devices (except for editing presets). Let me know what settings are the most important for you, so I can build what you need. Some planned future features are noted in the docs.
If you want to know more, read the HC-1 module documentation on github.
You can download the plugin from the pachde HC-One Github Release Page, which also has installation notes, and beta support info.