Hey guys. I need a bit of schooling around playing oscillators.
Using qwerty to trigger the oscillator. The main issue I have is every note that is played on the keyboard does not change much in tone. Every note or key is like homogenous drone noise with a slight tonal difference. I am not getting key changes.
The second problem is when I have it set up like it is in the picture, a note does not sound every time. This seems to be remedied by sending the MIDI-CV into Entrian Melody V/oct and Gate, and then out to the oscillator and ADSR. However, I still get the homogenous drone issue and there is very little musicality to it.
Have tried with both monophonic and polyphonic output. I'm not even playing chords, just simply want the thing to play a different note or key.
Entrian Melody does a better job of offering tonal change. However, if two notes are over the top of each other in the piano roll, again a homogenous drone is offered up.
This is a real head-scratcher for me. I wondering if modulating the wave with another VCO makes it harder to get tonal changes, but this was not my experience with hardware synths.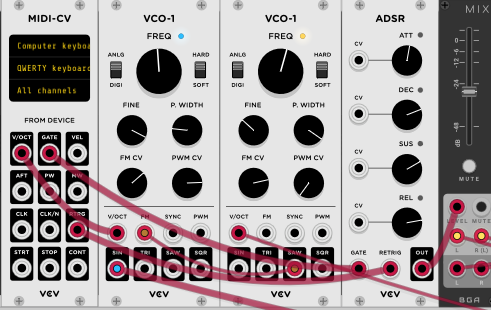 Ignore the V/oct on the second VCO it was only there for a second while I was trying something else out.