I like using OrangeLine FENCE to keep pitch CV within a defined range. It sure is useful how it increments voltages outside the range by multiples of +/-1v, using the principle of octave identity to keep pitch classes the same, harmonically speaking.
Useful! But it's got a problem, for me! The problem is it quantizes pitch CV to 12 equal-temperament pitches. I work in 5-limit just intonation, so this is an issue, as FENCE has led me astray from the PURE HARMONIC RATIOS I prize.
Therefore I had to roll my own - NONQUANTRALIM™, the Nonquantizing Range Limiter (attached).
Q: Does it work?
A: PRETTY CLOSE! Sometimes the output upper and lower limits are fuzzy by about +/-0.05v, but the voltage that comes out always differs from the input by multiples of 1v, so I'd say it's OK! There's also a few spiky artifacts probably caused by micro-timing issues, but a SLEW smooths them right out.
Q: I know a better way to do this!
A: Please tell me what it is!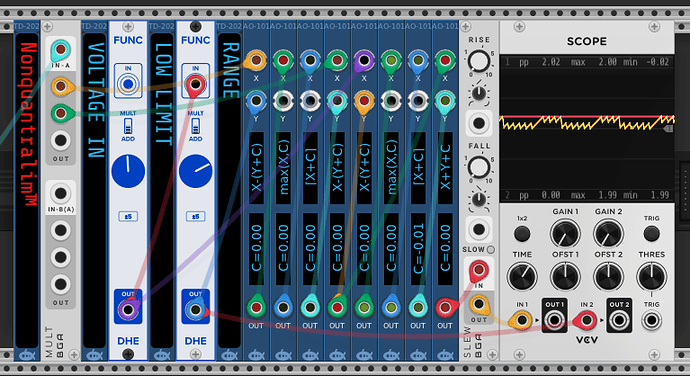 Nonquantralim.vcvs (11.0 KB)