Venom 2.2.0 has been released.
Please don't ignore the documentation! There is valuable information there to help you make the most of the modules. But below is a summary of the new modules and features.
New Modules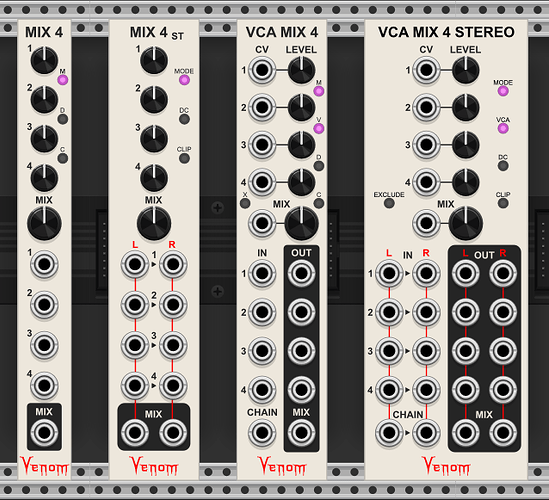 MIX 4 is inspired by the VCV Fundamental CV MIX, but with many added features
An extra 4th input
A final mix amplifier/attenuator
Multiple modes (scaling ranges) for the knobs
Knobs for unpatched inputs show the resultant constant voltage instead of a scaling factor
Options for final mix DC offset removal
Options for final mix hard clipping, or soft clipping (saturation)
The soft clipping option includes an option for oversampling to reduce/eliminate aliasing that can be produced by very hot signals. Most (all?) existing modules with soft clipping do not control aliasing.
MIX 4 STEREO is simply a stereo version of MIX 4
VCA MIX 4 is inspired by the VCV Fundamental VCA MIX, but again with added features
All the features of MIX 4, plus…
Significantly more compact than the VCV module by using knobs instead of faders.
Unpatched inputs in CV mode can produce constant CV, just like MIX 4
VCAs can be configured for linear or exponential response
VCAs can be unipolar ("normal" VCA), or bipolar (ring modulator)
Patched VCA outputs can optionally be excluded from the final mix
A CHAIN input without attenuator to chain modules without sacrificing any of 4 VCAs. If all 4 VCA outputs are patched and the exclude option is enabled, then the CHAIN coupled with the MIX knob can function as a 5th VCA.
VCA MIX 4 STEREO is simply a stereo version of VCA MIX 4
Global Plugin Enhancements
Each Venom plugin parameter (knob, switch, button, etc.) has been given context menu options to lock or unlock the parameter.
Each Venom plugin module has been given module context menu options to lock or unlock all parameters of that module instance.
The new parameter lock/unlock options do not apply to Rhythm Explorer as it already had its own parameter locking implementation.
Behavior Changes
Recurse Stereo: The right input now remains normalled to the left input when bypassed, which in turn can affect the bypassed right output.
Discontinued
Removed the hidden VCO that will never be released. When/if I do release a VCO, it will be entirely different code.