Neil Peart (1952-2020) R.I.P.
Sad. Posted a link to a Rush track in the "What are you listening to" thread.
A lot of people are feeling it
I was just about to post this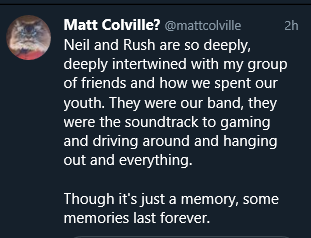 A remarkable drummer, an even more remarkable man. He will be missed.
a truly great musician
he will be missed indeed
Yeah, saw it first on Rick Beato's channel yesterday night. Must admit it brought a couple tears to my eyes. We've lost one of the finest drummers of all time, in one of the best, most innovative bands, and on top of that he seemed like a really nice person, who endured personal tragedy in his life. He will be thoroughly missed and remembered by a lot of people. Huge legacy

Let's have a celebration. Here's the professor in session on Letterman:
Doing some jazz, showing off his versatility, still with that unmistakable Neil Peart sound, of pounding precision and dancing around the drums. It often sounded like he played in anger, hitting so hard.