upcoming project needs a 2D box, and using two inputs (one for X and one for Y) I want to navigate around inside the box (the green dot in the drawing)
There are several audio sources inside the box at specific fixed XY coordinates (the red dots in the drawing) each red dot is a looping WAV sample of a different person talking. Depending on what the navigation XY values are at the XY inputs, the volume of each of the samples will be different. If you're closer to the red dot it's louder.
I think stereo will be cool to have in the future, but basically I'd like this to work in mono too, just using volume.
Finally, I'd like to control the curve and length of how each individual red dots audio sample falls off, for example one dot you can't hear until your very close to it, another is audible from much farther away.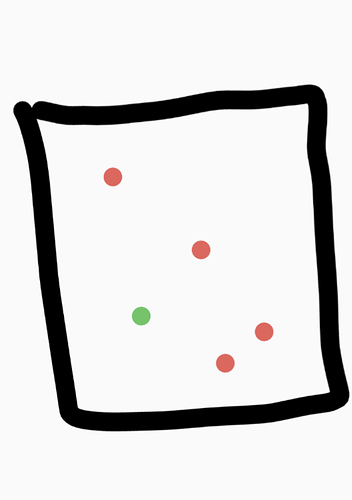 I can't wrap my head around this. You can get close to one of the nodes but then move past it and have it get softer in volume, that confuses me. I want some nodes to be near the edges with a small space you can go past, and others in the center with equal space on both sides etc…