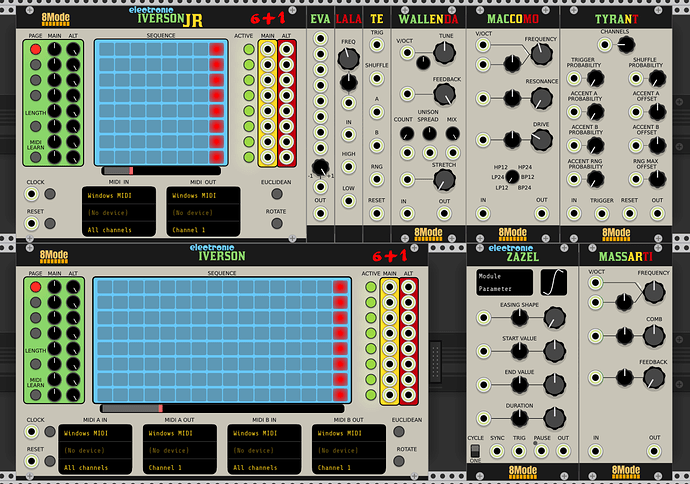 Here the links to download if you like please comment thanks
( Gui based in VCV Library - 8Mode softSN Machine )
Mixer design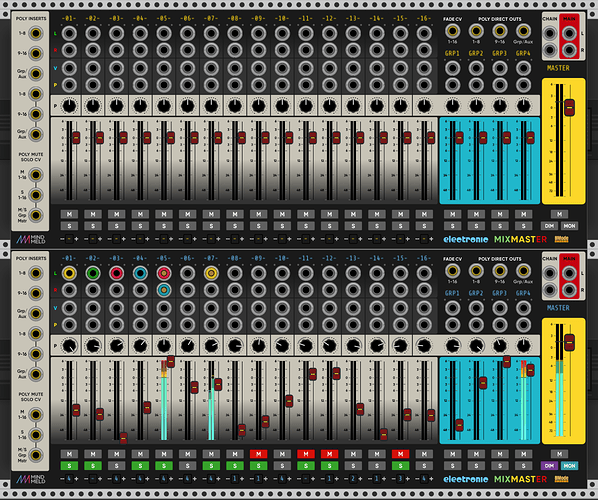 Great improvement on the GUIs

the only thing that I find a bit distracting are the colored titles of the modules,
as they are not really consistent imho (4 or 3 green letters, then 1 or 2 yellow letters, then red letters, some modules are only green or red or yellow…) maybe it would be better when the letters change the colors in a fixed pattern like green-yellow-red-green-yellow-red-green-yellow-red and so on … or each module uses only one color …
but this is just a minor problem the overall look is really nice
the video is nice,
but I don't understand if this should answer my comment, or … ?
Yes I will change the letters colors, if you like can change too just ussing Inkscape editor
they look nice. I agree that the labels are a little distracting? The problem for me is that the labels really draw your eyes, whereas the "action" (knobs, jacks) is pretty plain looking. I'm all for plain panel (obviously), but for me the titles shouldn't be more visually prominent that then panel itself.
But look really nice!
As the original author of the modules, it's nice to see new GUI designs, and people using the GPL license as intended to extend and enhance existing work. I will be the first to admit my UI designs are minimalist.
May I enquire, are you intending to release these updated modules in the library under the 8Mode name, or would you like your designs to be included as replacements for the original UI in the modules currently available?
Yes no problem can change 8mode mark, please add an update, need a monophonic to polyphonic mixer, the EVA module can mix monophonic to monophonic out, we need monophonic to polyphonic outs module
Can you please give a bit more detail on the monophonic to polyphonic mixer please? I dont think I understand your requirements.
Yes, similar VCV Merge module, multiple monophonic input cables to main polyphonic output, similar EVA plugin
Very nice GUI design.
Do you offer this GUI for the Mindmeld mixers too? I can see the pic in your first post but can't find it anywhere.
Thanks!
The MindMeld panel graphics in the plugin res folder are copyright and licensed under CC BY-NC-ND 4.0. This means derivatives are not allowed and while you can modify the panels for your own personal use, modified panel graphics may not be distributed.
What are you doing?
I notified you before that the MindMeld panels are copyright and that the license makes it clear that you are NOT allowed to distribute modified MindMeld panels. You acknowledged that and then went and uploaded them to your public Github repo anyway. That counts as distribution.
You are now in breach of the license. Please remove the MindMeld panels from your repo immediately.
I've deleted the links to your repo that were in the thread, and until you comply with @steve demands to remove his copyrighted designs from your repo, i don't want to see any links to it in this forum .
@dnbstartrek When someone asks you to not post publicly their Licenced design, you don't just like their post and proceed to do so, that's not acceptable in here. So please resolve the situation, and i'll be happy to restore the links
sorry for the inconvenience, the mixer GUI are removed