Today my first module was published by the VCV Rack team called Grendel!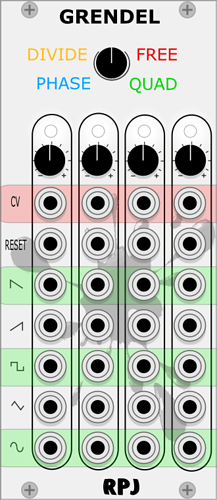 Grendel is highly inspired by the Batumi from XAOC. It is a fully voltage controlled, quadruple digital LFO module with a couple of nice features. Each oscillator can be used independently or in one of the 3 other modes: quad, phase and divide. For each oscillator, there are sine, square, saw, ramp and triangle waveform outputs available. Voltage control is possible for each oscillator's frequency, phase and reset.
You can find it here: < VCV Library - RPJ Grendel>
Documentation can be found here: https://github.com/kockie69/RPJ/blob/main/README.md
By the way, my next module is almost ready for release and will be called ' Lady Nina' . Do we see a pattern here?