Hey all.This is my 1st patch fit for release .Upbeat tempo for a "hurried" feel. Mostly String voices.Have feed from two Befaco Even .Impromptu for Sequencing.( A tip o'the hat to Omri Cohen for the tutorial)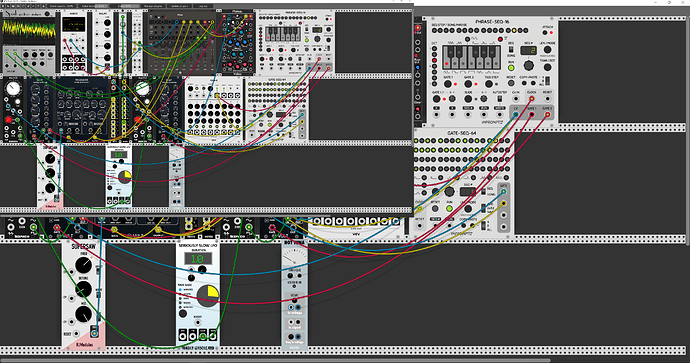 Knobs to turn: Octave range on Befaco's, Vult Slap Att and Rel for staccato or legato strings, Mix on the VCV Delay .
This is a work in prog. due to PC HHD died a few days ago.I want to control the Saw cv in to freq. Laptop taint got the power, or cv imput on RjModules Saw not doing what I expect it to do.Mutes when anything is connected.I want to change the pitch.That's why the mix lvls r lowered from the Vult Trummer. Seq
#2
works best for me on the PhS 16
This is something my ears enjoy.Hope yours do too! I have limited knowledge on rack synths as of yet.Can't wait till I get it all figured out hehe. And always, thank-you Andrew Belt!!
Hurried worry.vcv (56.4 KB)