One of the things my Venom Recurse module can do is Ring Modulation. This happened out of a desire to amplify a signal by 32 or more to support deep wave folding (I'll post a video about this soon). I didn't want the built in scale attenuverter to exceed x 10, and the easiest way to achieve the high amplification was to multiply the scale CV input by the attenuverter value. Oh, that 's cool, I thought - the module will then do ring modulation. But I never really had worked with ring mod, and didn't know how it could be used.
I don't see it in many patches, and all the literature I could find mostly talked about the inharmonic frequency shifting it does, so it seems it is mostly used for weird effects. But after doing some ring mod experiments with Recurse, I think ring mod is seriously under valued. Just like with FM, if you keep the ratio of modulator frequency / carrier frequency to integral values, then it is easy to get harmonious musical results, especially if the modulator is a sine wave.
What I was really surprised to find is that you can iteratively apply ring mod using the same carrier, and each pass yields a different, yet still musical sound. It is well known that ring modulation does not preserve the original frequencies of the carrier or modulator. But I was pleasantly surprised to learn that an even number of ring mod passes restores the original carrier frequencies, though at different amplitudes.
I prepared a patch and video to demonstrate the musical application of ring modulation. I use the Venom Harmonic Quantizer module (HQ) to easily compute the carrier frequency at various integral ratios. And since I never do more than 8 iterative ring mod passes, the 16 polyphonic channels allow a single Recurse module to perform all the ring modulation for two independent voices.
The ring modulation is performed by patching the carrier to the Recurse input, and the modulator to the Scale CV. I use +/- 5V signals, and as long as I set the Recurse scale factor to 0.2, then the output remains 10V peak to peak no matter how many iterations I perform.
I slightly detune the carrier VCO so that the modulator / carrier frequency is not quite integral. This adds some really pleasant undulating shifts in harmonic content when using a harmonically rich carrier. I also add a bit of DC offset, which I find gives the bass tones a bit more emphasis, so technically I am introducing a bit of amplitude modulation to go along with the ring mod.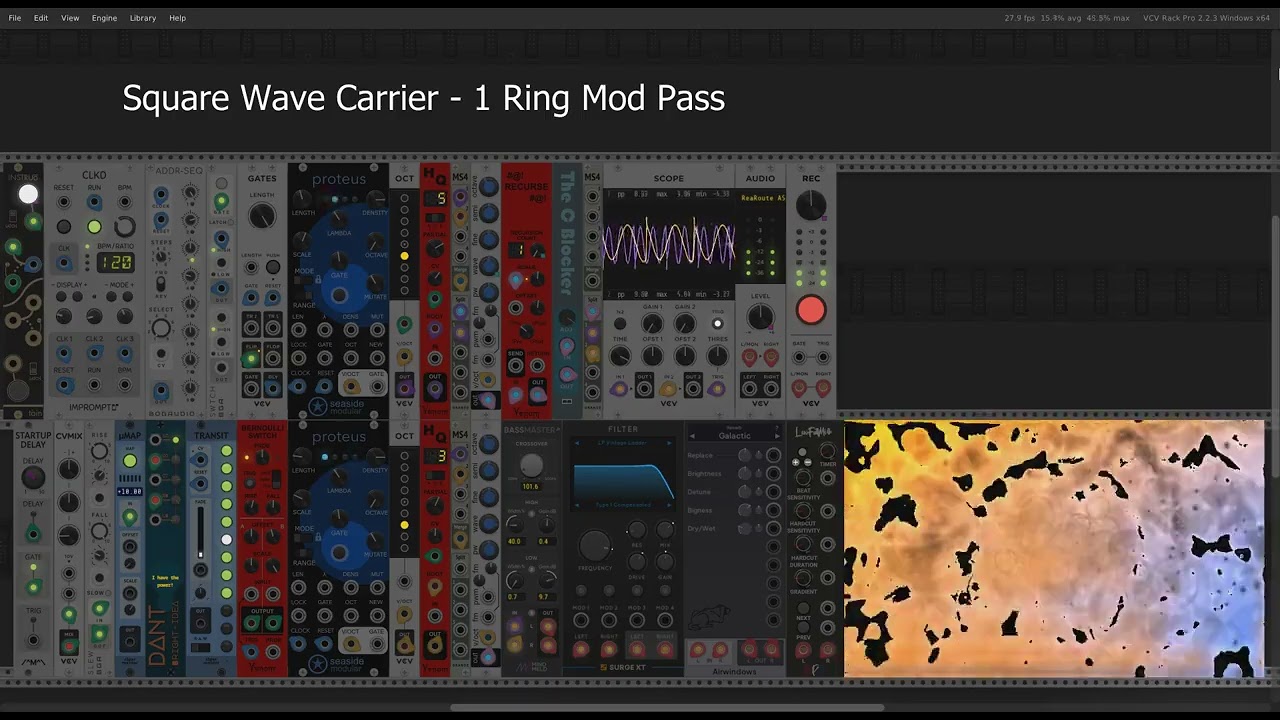 There are many brilliant minds that have worked with electronic music over many decades, and I have only been doing this for about two years. I can't possibly have discovered something new. But I haven't been able to find anything written about the technique I am using. I would be very grateful if someone could point me to some content about musical usage of iterative ring modulation, preferably on the web. I would like to read more about the technique, and see where it can be taken.
Also, feel free to post your own ring mod patches, using whatever ring modulator you prefer. I think there is expansive territory to explore.