Excellent bug report. Just pushed a fix for all 3.
Sorry, bit late to the party but wow, thanks so much for resurrecting these modules, especially the 6x32 Trigger Sequencer. Small issue, not sure if it's me, but on the sequencer it appears to be functioning as a 16 step sequencer and not 32. I can't seem to go beyond the 16th step on any channel. Am I missing something? Cheers.
This is on the Win-x64 plugin
I see the same strange 16 vs. 32 steps error.

Another minor bug: lack of this value at startup in the context menu.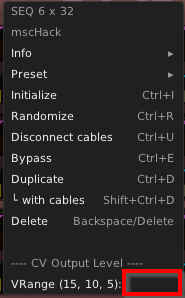 I'll take a peek this week thanks!
Just took a peek and yeah a defensive guard was set up incorrectly. I pushed a fix and should be a new build within the hour. Thanks!
Cheers. Thanks for the fix.