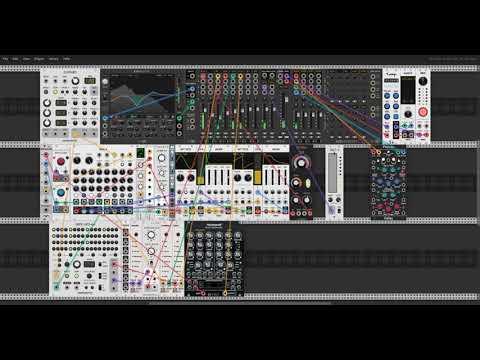 What the hell, why not?

I can't quite get the "djent"" part right yet though.
Modular Djent 1.vcv (20.1 KB)
Nice! Is that from the new Meshuggah album?
Well Meshuggah is the definitely the inspiration. But the sequence is random.
I've tried guitish textures before but with varying results. The waveform never sounds chaotic enough.
Yes, I've noticed trying to sculpt a realistic guitar tone that it is next to impossible. I just add alot of distortion to disguise it. But clean tones are another ball game completely.
You can try using "real" guitar signal chains. I added a cabinet IR that I use daily to your patch, and it sounds a lot closer (although the original is pretty good). If you are not against samples (to replace oscillators), I think it can get close to 85%.
Here is a fun web djenerator (ok…) that I like to play with: djen.co
That's really cool. Thanks @Letheward . Yeah I was just goofing around really. I know that synthesis will never replace a real guitar cabinet setup, plus there is so much more to it, such as playing technique, etc. I'm really interested in the composition of the riffs though. As I can only dream of playing like that, it is fun to mimic it in software, and VCVs routing makes it even more fun.