Is there something like Cosmos Drifting Memory Station in VCV rack?
Desciption is suspect
And something you can't really understand is not so good to use
You may be interested in my PurrSoftware (PS) Meander module. When I began developing Meander in 1988, I was making meditative and ambient music and I wanted something that could aid me and accompany me in making the extended musical pieces (typically 30 minute performances). Meander provides a Western diatonic music foundation including the circle of 5ths to generate harmony (chord progressions) and then derive melody and arpeggiations and bass lines from the harmony part. So, Meander can give your ambient or meditative music a nice music theory and practice foundation on which you can build unlimited evolving sounds using other plugins and modules in VCV Rack.
Meander is called "meander" because it is based on fractal Brownian motion (fBm) time correlated psueudo-random notes with 1/f noise constraints. The music "meanders" like a river.
Anyway, you might give it a try since I designed it to do what you are interested in doing. You can play Meander harmony or melody from a MIDI keyboard and Meander will accompany you, using my "octal radix" notation, but that is an advanced topic.
The reviews for the pedal are very impressive, seems like an inspiring piece of gear!
Well hello Dan, I think I have started following you on Soundcloud. I have created a rough approximation of this pedal see below for the patch. The sound source is a AI Resonators as guitar. Please give feedback. Best way to get randomness is randomize the Matrix. Thanks.
Res Guitar-Cosmos drifting.vcv (19.3 KB)
I haven't uploaded to soundcloud in a long time, but that's probably the only place that has any of my guitar playing. I've been putting out some electronic things under the name Yokai Holiday. But I'd like to do some guitar releases sometime, hopefully this year or next year.

I've downloaded this, and for some reason it won't open, vcv says: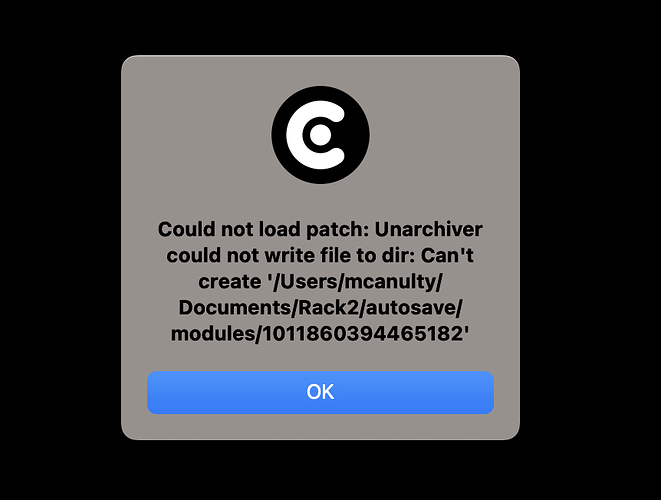 Send me a screen shot of it though, and I'll see if I can recreate it!
Are you running 2.3.0? That has that fixed (at least on my mac it hasn't reoccured since)
Ohhh, that must be it, I saw the little update light last night and then forgot all about it. I'll try it again tonight.