I'm trying to build a Seq, and I'm facing a huge problem on sync the desidered sequence with external modulation. This because Rack is always 1-sample delay for each cable between modules.
In my case, I've:
Trig -> Reset Seq
-> Reset Mod
Mod -> CV Seq
Somethings like this: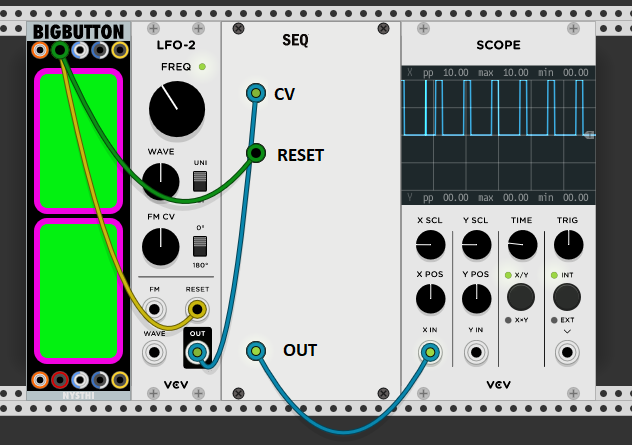 Once I trigger (sample index 0), I reset both Seq and Mod the next sample (sample index 1), and the Mod send the resetted CV value to Seq another sample ahead (sample index 2)
When the Seq reset (sample index 1), I don't have the real/actual value of the resetted Mod value, because it will come in the "future" (i.e. at the next sample).
The fact is: in the Seq reset stage, I decide (for example) if start or not a trigger for that first step, based on the CV value of mod.
So it happens that "sometimes" it play, sometimes doesn't, depending by the value of the last Mod value before reset, not the actually first reset value. That's because when I evalutate the CV, it always get a "random" value, due to when I click reset, not the first (fixed) mod value.
I could simply "discard the first sample on seq reset, and take the next from CV", which allows me to get the real resetted CV mod value. But what if I place another cable between the Mod mudule and the Seq CV? The delay will be 2, so I should discard 2 samples and take the next. And so on, whatever number of cables I will place. I can't mange this.
Is that a "limit" on VCV Rack? Which will always introduce inconsistency?
Or do you know a way to resolve this?
Thanks