Impromptu Modular update v1.1.4:
New module CHORD-KEY: keyboard-based chord generator with room for up to 25 four-note chords that can be accessed with a pitch CV (C4-C6)
New module CLKD: a half-sized version of CLOCKED but without pulse-width, swing nor delay.
4-VIEW can now also be used as an expander for CV-PAD and the new CHORD-KEY to show the note names without patching
The new Portable Sequence standard developed with SquikyLabs and Entrian is now supported in Foundry, PhraseSeq16/32 and SMS16, to copy-paste sequence content between modules.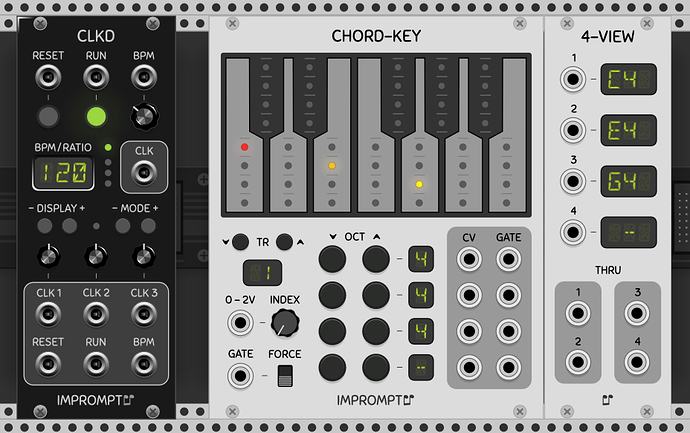 Another new module included in this release is HOTKEY. But it's not as powerful as it appears since the mouse has to be over the module for the key to be detected. It was more of an experiment, for my recording purposes, so that I could sync VCV Recorder with OBS, but I kept it in case it can be useful to some.
As always, the manual has more details, and feel free to ask if you have any questions. Cheers!