Foundry: a new 4-track phrase sequencer by Impromptu Modular.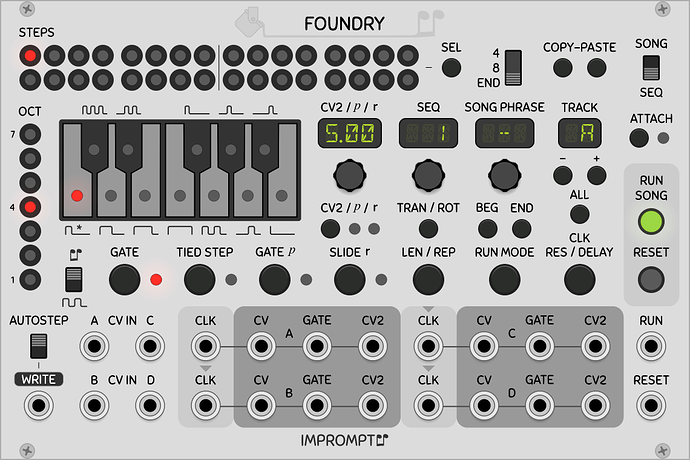 This new update (0.6.13) brings a few changes and two new modules:
Foundry: a 4 track phrase sequencer that follows many of the design principles found in the PhraseSeq lineup, but does some things differently, the main one being that since I wanted to allow sequences to be editied when the song plays, which is something PS16/32 cannot do, we can only run the song. I have a block diagram in my manual, which I highly recommend, so that you can quickly see the structure of the sequencer.
FourView: a small 4-CV display module that shows notes symbols, so that we can quickly see our chords. This module pairs very well with Foundry.
Clocked: the clock outputs are now held in their current levels when run is turned off (instead of interneally being reset), such that when run is turned on again, the clocks continue on their way from where they left off. Such an approach is needed for when we are clocking different sequencers that use different clock ratios, such that everything stays in sync when we stop the patch and intend to start it up again from where we left off. Reset can still be used though, to restart everything as usual.
Held tied notes: In Foundry and all PhraseSeqs, tied notes now hold their gate across successive tied notes. The former method is still available in the right-click menu.
As usual, more details can be found in the manual:
https://github.com/MarcBoule/ImpromptuModular
Acknowledgements:
A big thanks to all the Impromptu friends that collaborated on this project .
Thanks to Cristoph and Andew, who keep these plugins updated and rolling in the plugin manager.
To The art of sound, who unfortunately has been quiet these past weeks… this one's for you, get well soon my friend.