So I still think that the previous idea is very cool and hope that someone would make it for everyone. Or maybe I should learn programming and make it myself… Nope.
Today's idea is something that I think about a lot. It is a type of OR module (or a mixer) with particular behaviour. Let's start with why I need it (and maybe other people too, one person requested a solution for this problem yesterday).
So let's imagine we have a patch with a snare that goes pew at every 2 and 4. We want it to go pewpewpew sometimes. We start to dance with mixing the inputs and adding the ratchet and so on. The more we add the more we need. Oh, this is a function generator and it ignores the second ratcheting input, cause it's too fast. Let's modulate the decay, let's make the gate shorter, let's use the other ADSR, Oh, we can't mix two inputs as is, cause the longer gate still masks the ratchet. Let's crossfade or kill the longer signal…
As much as I like solving the problems, sometimes I just want one module that does what I want. And what I want is demasking and prioritizing the signals. Like input A is the main input as long as there's nothing in the input B, which is prioritized as long as there's nothing in the input C. And so on.
Here's a picture!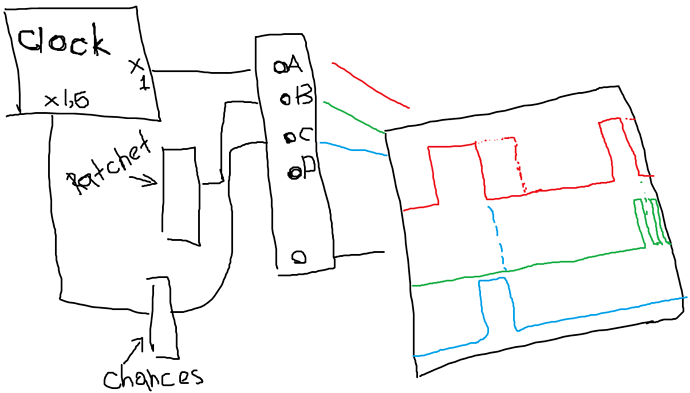 So it is a type of OR module. But if it receives the signal of higher priority, it jumps from A to B. Von A nach B der Liebe wegen! Sorry for this Einstuerzende Neubauten reference… It could jump from A to C though and for now Blixa has nothing to say about it.
I should add that there are many ways to do that without using the… I need a name for this thing. ORder, haha. A little cringy, but fine. So it is possible, but I feel sometimes that we need some unusual non-commutative logic modules. And that would be a nice start. That's it for today's crazy ideas!