Dear vcv community,
on my previous threads calling for help structuring a song, everyone was responsive and I am thankful. You all recommended some more effective modules, alternative methods, I swear I will be using them in the future, but in this thread I need someone to bear with me and help me fix hhow I designed this patch. I need to understand why it does not work the way I 100% thought it would. I'll explain all my reasoning below. Rather than providing a screencap, I am asking you to open the patch and read my reasoning, see if that checks out. I'm almost certain it should not be long if you are a seasoned user.
If you can recommend thorough tutoring that's about clocking events, even paid, I'll also take. I intend to learn how to have various rhythms come together, that's why I am so finnicky with understanding switches and their clocking; especially with the basic vcv modules.
switch_problem.vcv (2.2 KB)
As mentioned in the previous thread, this is the sequence I want to play: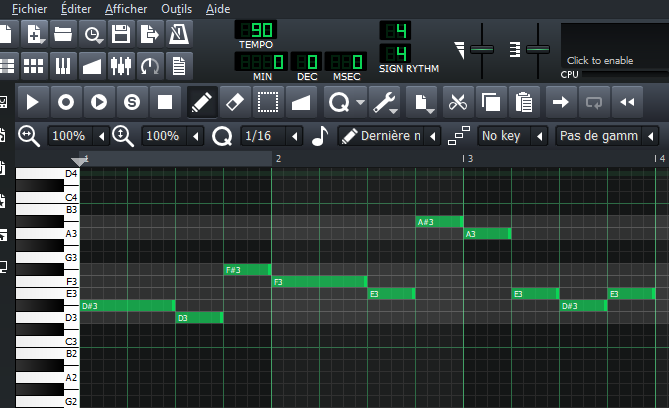 And here is how I organized my patch, as sorted by SEQ-3's. I've modified it from the older thread:
Top left: Switch sequencer clock modulator. Tempo = 22.5 = 90/4 bpm. Each step now counts one 90 bpm bar. I want my switch to switch after 2 bars, then after 1 bar, so I checked the triggers: O X O and sent them to clock my switch. As the main guide of the whole phrase, I asked it to send resets to the other SEQ-3's as well as the switch, so everything is in sync.
Top right: Tempo = 90 bpm, 8 steps, Gate sequencer for the first V/oct section of the switch, works as intended sending a clock modulation of 1 half, 1 quarter, 1 quarter, 1 half, 1 quarter, 1 quarter. It is a more elegant way, recommended in my previous thread when I only relied on voltage rather than gate. The triggers as set as O X O O O X O O.
Bottom left: Tempo = Modulation from top-right, 6 steps, Flawlessly plays the first 2 bars with the right notes.
Bottom-right: Tempo = 90 bpm, 4 steps, no clock modulation necessary, flawlessly plays the 4 notes of third bar as intended.
Sequencer switch: This is where I've got problems. The sequencer switch receives the triggers from top-left as clock. It also is reset by top-left. From run or reset, I want it to stay on position 1 for 2 bars, then on position 2 for 1 bar, then wrap it up back to 1. A delay is blatantly visible on the lights of the top-left SEQ-3, I should be reaching the 4th note as no. 2 lights up of top-left, but it reaches it slightly before! And then my sequence switches to 2 without finishing the phrase, or sometimes too late. So, is there a problem with my choice of dividing clock by four to get steps worth one bar?
There's also the problem that I don't know how to conveniently reset the bottom-right sequencer when it receives the OK from switch step no. 2, after the 6th note from the other SEQ is played. Is it maybe done automatically?
I acknowledge there were other solutions, but it is this one I hope to succeed in with your support. Thanks in advance.