I want to create some dripping, trickling water sounds in an ambient generative patch. Any suggestions how to achieve this?
This should give you a starting point anyway.
for the drip:
Use a square wave LFO with the pulse width down low, you can route this to Bark 1 Band to add more shape to the drip (High Q setting, freq knob, medium gain), send it to a Ladder or State Variable HP 24 filter such as Blamsoft F-35 (many filters on it so twiddle with which one suites) turn the res up all the way and freq about 12o'clock to 2 o'clock, send to Reverb, if it has too much low end still you can filter again before/after the verb or use another 1 Band. Results can sound metallic. This is because of the rise and fall of the square wave so experiment, a saw wave might suite better for a smooth fall.
Trickling will be a little harder let me think about that one! Crap loads of filters and some white noise mixed with a low bit oscillator I'm thinking.
Might not be exactly what you're after, but perhaps it will give you some ideas:
The sound of flowing water is easy using Braids (Macro Oscillator, or CornrowsX) in PRTC mode with pretty much default settings. Water droplets is more complicated. You sweep an oscillator through a band and use a short envelope and vca to hear only a small portion. Check out my VCV Rack file for an example. Please let me know how it works for you.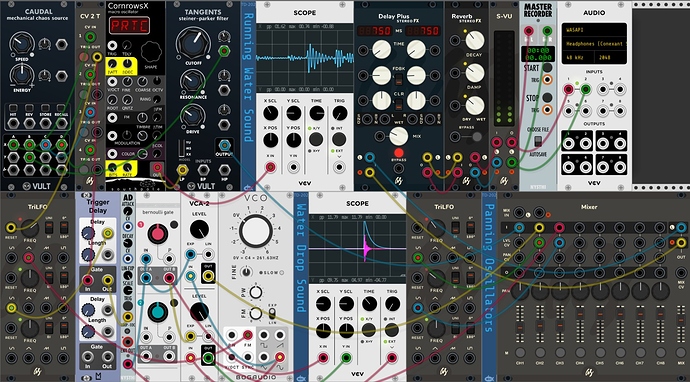 flowing-water-cleaned-02.vcv (20.6 KB)
Nice one - Thanks for that - I have some reasonable water drops using a slow clock through bernoulli gates triggering a couple of the autodafe percussion sounds - just add some reverb and each, with a fast lfo on frequency you can get some nice tone variations. The running water sounded a little like a saucepan of boiling water so I just added a little phased pink noise, and its a great result!
thanks - i was listening to that earlier, got some good ideas that ended up in another patch

Jim - got this sounding really nice now, big thanks for the patch- couple of time tweaks

flowing-water-cleaned-02.vcv (20.3 KB)
Sounds good to me!

I made this back when I was first figuring things out. Love this forum for quick uploads and community tweaking of patches. Awesome.

I've been using Plaits in my ASMR streams for the running water and then hora softbell/clave with a ton of reverb for drips. Set Plaits to particle noise mode, turn the frequency timbre and morph up and mess with the harmonics.
Didn't Suzanne Ciani become famous for synthesizing the sound of a soft drink?
yep - the 'pop and pour' advert!
also, incredible patch above - thanks for sharing and for the thread yall - v inspiring!
Have you checked on Youtooobbb?
A lot of what can be done in Eurorack is achievable in VCV, so just search with the term Eurorack included.
For example:

more here:
Youtube search: water drops eurorack
Thanks i will check this out tonite
I made a little demo video:

Details are in the video "about" box.
Not as impressive as some of the others (which are effectively demos on making particle noise itself) but I think it sounds okay.
Definitely has potential, could be fine tuned to sound less mechanical. More filtering on the low bit sounds for the flow I reckon. Can you upload the patch so it can be tweaked?
Here's a drip from the post I was talking about…
Coirt_Drip.vcv (17.4 KB)
There is a good few sounds that can be made from this I reckon. Messed with it a bit more today. Some more tweaking might be involved to eliminate whip sound, there is metallic sounds of a cowbell in the drip so you could isolate that or remove it entirely to get a more pronounced sound of the bubble popping. Depending on where the drip is supposed to be i.e. an aluminium sink you could add more layers of filter with some low end, add layers with some highs/noise enveloped to get a sprinkling sound of droplets landing etc.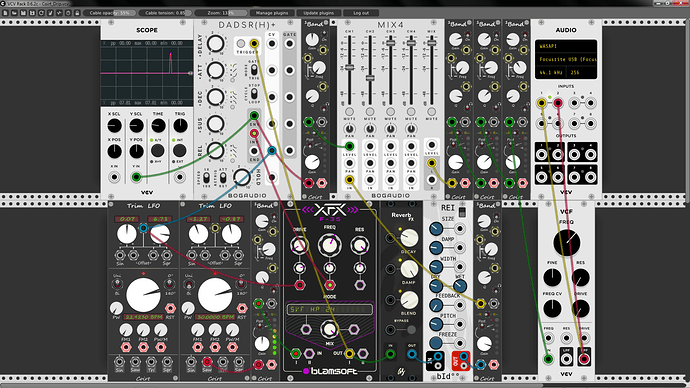 @dag2099 all the one, will have a look!
some great bubbling going on there!