So, I'm very new to module development (and C++/audio dev in general), only made a little toy module so far. Kinda out of my depth, but I'm surprised how fast I'm getting things to work, so I'm trying something a bit more ambitious for my second module: a pitchbend helper that abstracts out the math of it (and will eventually have a bigger version with scale-aware quantization features). Most of the task seems manageable, except for this:
I want my module to provide a knob that springs back in the center position when operated with the mouse.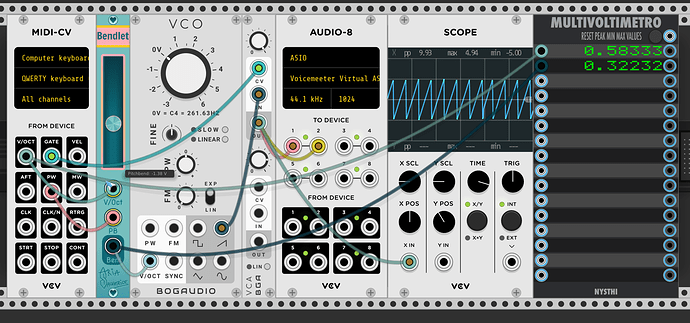 For now, I'm just resetting the value back to 0 when there's no change in input for a while.
That's not a good enough solution, since you often want to hold the pitchbend knob at a specific value for a long while.
Bear in mind that:
If the user is using real hardware, they're expected to patch a MIDI-CV's PW output to my module's input, so there's no software springing back action on CV input - the hardware takes care of it. I'm only concerned with springing back the software knob.
The user might intercept the knob while it's springing back in position, which adds a bit of complexity to the problem.
The user might use MIDI-MAP or the like to control the knob, which doesn't make sense with my intended usage pattern… but modular is all about disregarding the intended usage pattern, innit? Still, I'm not sure what would be the best behavior to default to if they do this.
How should I go about detecting whether the user is currently interacting with the knob? Holding it in the current position counts as an interaction.
This is more of an open-ended question to get suggestions how to do things the right way, since it seems like the kind of thing where a naïve solution could cause issues I didn't envision.
Previous discussion that might have useful relevant bits: Controlling a knob automatically from another knob