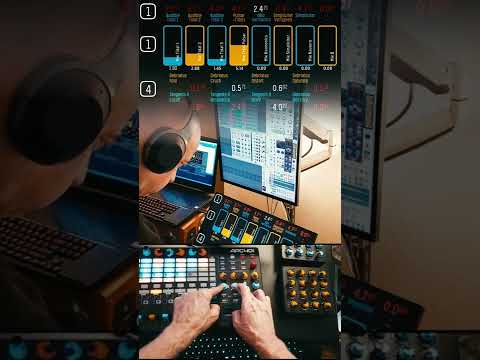 Have been using my various midi devices as input (CAD, game engine, software synth, Processing graphics) for a number of years now, developing strategies to enhance the resolution and alter the usability of the physical controls. This video shows the modifications to an AKAI APC40 MKII controlling VCV Rack.
The endless encoder caps have been designed to allow fingertip control through an off-axis bearing mounted "crank", like a mini-jog wheel. This allows for multiple controls to be manipulated with each hand. Resolution is currently set at 0.0005 units at the lowest RPM.
The faders have an add-on engineered mechanism that returns each fader to the center position, lightly spring-loaded up and down. Fits nicely into the 4mm recess of the AKAI. This allows for applying unlimited banks of faders to a fixed set of hardware controls, and fader automation in software, without motorized control. The fader caps have been redesigned to have radial surfaces to make the action of pushing and pulling uniform. The increment/decrement approach works well for the way I use it.
All of the modifications are 3D printed.
The midi stream is sent to Processing where it is handled and converted to OSC and sent to VCV Rack. Velocity sensitivity is variable, mins and maxes are variable, and everything can be stored as a text file for reloading in another session.
Would love to hear what you think about the approach!