Hi, so I'm trying to set up a 16 step gate sequence with a button interface (something like Count Modular 8x16) and be able to have different versions of that sequence starting at different points in the pattern.
I can do this for CV using the setup on the top row: Bogaudio Polycon 16 to define offsets for each channel, Addr-Seq with expander to define a CV sequence and its polyphonic output into VCV Split to separate the sequences. Each channel can be the same sequence but with a different offset, determined by the Polycon16.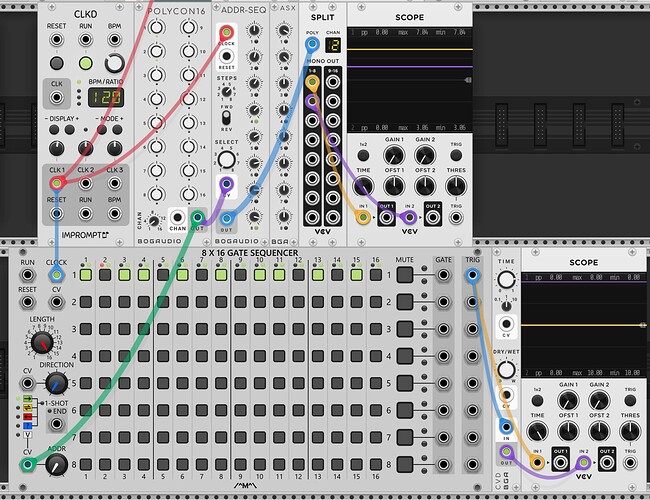 I want to be able to do something similar for gate sequences. I could set the sequence into some delays (bottom row of above pic) to get a similar effect, but then there is a delay (unsuprisingly) before the offset gates arrive and I'm also not sure how to feed exact values for x beats or bars offset into the delays for a given tempo automatically. I've tried a few things but not managed to getting anything working. The Count Modular 8x16 accepts a polyphonic cv input for ADDR, but the gate and trigger outputs are not polyphonic, so I'm not sure how to do this.
Any ideas?