Update: Rack 2 releases are available here, current release is for Rack 2.beta.1: Releases · freesurfacemodules/FreeSurface · GitHub
Hello all,
This post introduces the first Free Surface module, WaterTable, which is now available on the VCV Rack library:
WaterTable is a physical modeling system that simulates waves reverberating in a circular channel. Unlike many physical modeling systems which use delays and tuned filters to simulate the properties of physical systems, WaterTable has a "fully analog" approach, meaning that the motion of waves in WaterTable is determined by solving the underlying equations for wave propagation. That is to say, this is a no shortcuts way of doing things. WaterTable is able to create surprisingly realistic renditions of plucked strings, drums, and even brass from simple input waveforms. It's also useful as a general purpose cabinet filter, and can mix incoming stereo signals or spread the stereo field by selecting the position of the inputs and outputs in the WaterTable channel. WaterTable's design makes it inherently unpredictable and chaotic, making it an interesting distortion module. You can read more about the usage and design of WaterTable in the manual here:
Here's a demo of the sound shaping possibilities with WaterTable. 15 seconds in, I change the wet/dry knobs on three instances of WaterTable from 100% to 100% wet: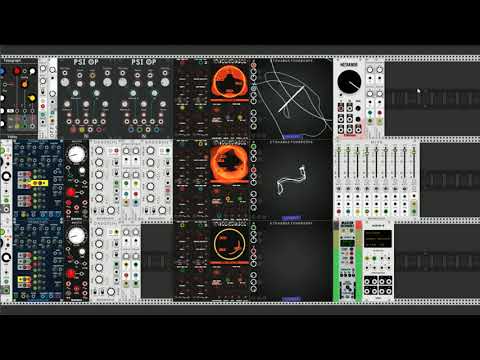 This is my first VCV module, so I'm interested to hear how it is being used, and what people would like to see changed or added, for example:
What is missing here, for example, additional controls, inputs, or visualization information?
Do the controls and inputs feel like they are tuned to good ranges? There are some limitations on what I can do about this (more on this in the manual) but if anything sticks out I'd like to know.
Do the default settings make sense?
Is there anything that needs further explanation in the manual?
What would you like to see in the future, either in another module or an expansion, based on similar principles?
Does performance seem acceptable? (This is especially difficult to remedy, but I am willing to attempt any concrete performance optimization suggestion that is within my abilities).