Greetings! I recently acquired a Moog Subharmonicon and have been much enjoying the chance harmonic surprises the signal flow offers. I got to thinking last night that it would be cool to have an equivalent in VCV, where the voices are not oscillators but Kontakt instruments running within the Host module.
As in the original hardware, the 'suboscillators' would be a derivative of the fundamental pitch, be sequenced by the rhythm matrix and lastly merged in with the original fundamental as a polyphonic CV input for the V/Oct jack. Ultimately, one Konkakt instrument would be playing all 3 voices.
Attempting this idea with my rudimentary modular knowledge, I can recreate the rhythmic sequencer well enough (thank you Omri!) and may end up picking up the Slime Child emulation. I have struggled however to figure out how to manage the signal flow for the subharmonic series (f/1, f/2, f/3 etc) for the secondary voices when it comes to dividing the pitch CV.
I was thinking I could send pitch CV via sequencer through a quantizer and then divide it 12 ways using Submarines AO modules, use a sequential switch to select between the divisions, then as described above, merge the result back into polyphonic CV for the V/Oct jack in host. See this patched for one sub voice below: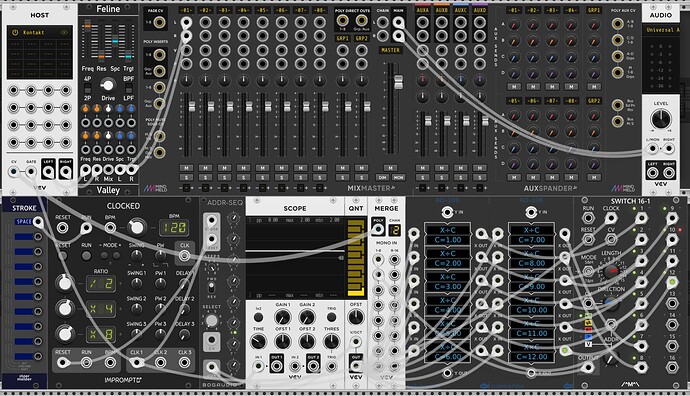 This method however doesn't yield the harmonic series as expected: C5, C4, F3, C3, G#2ish, F2, D2ish, C2, A#1, G#1ish, G1ish, F1. Instead, I'm seeing: C5, F#4, E4, D#4, D4, D4, D4, D4, C#4, C#4, C#4, C#4. If you change the fundamental pitch this relationship will change. If the fundamental pitch is a negative voltage, then the subharmonic series will rise etc… Obviously something is wrong with my math, but I'm not sure why! I'm hoping the braintrust here can come to my aid.
Also observing a secondary behavior where the Host gate jack seems to 'hold on' to CV notes from the previous trigger or sequence step, creating unintended intervals. Any ideas why that might be?
Patch here. You can press N to step through the sequence.
My thanks from afar.