Hello all
I was using the Quad Algorithmic Rhythm to create some more creative percussive sequences. The sequencer is repeating itself every 8 beats in sync with the master clock.
I wanted to change the rhythm on every 25th till 32nd beat. Changing the rhythm implies changing the BEATS and PAD parameter.
I figured that I could use a phased square wave with 25% pulse width. So, I used the BPM LFO 2 with the 8VERT attenuator. By manually fine-tuning the attenuator and manually setting the SLOPE and PHASE parameters in the LFO, I manage to get what I want.
After that I also wanted to introduce some change further down the line, let's say between the 121st and 128th beat. I set up a new LFO, but soon realized I had to update the other LFO as well, or at least merge the signals (a simple MAX was working).
Anyhow, I found this a very tedious process, especially setting the attenuator to the exact level corresponding with the value I wanted in the Quad Algorithmic Rhythm. Is there a VCV way to make this easier?
Another question is: should I use a gate sequencer + clock divider to introduce these periodical changes?
Once again, thanks a lot for your time!
Quad Algorithmic Rhythm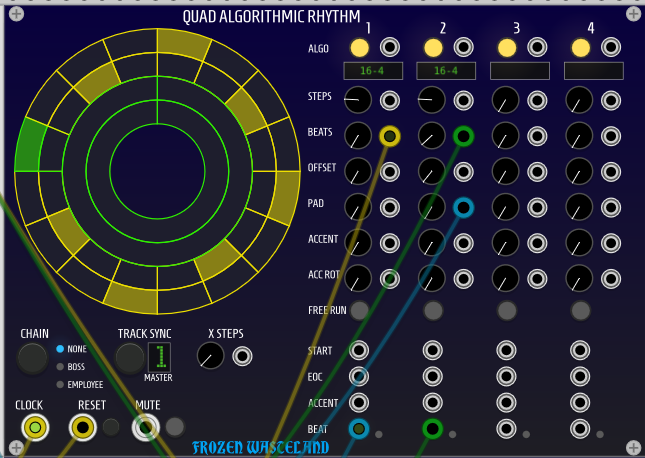 BPM LFO 2