Hi all, in this thread i will be posting patches i did that can be used for educational purposes. Slightly aimed at the more advanced user, but don't let that put you off.
Always feel free to ask anything you wish to know and i will try to explain how or what i did.
Some of these patches will be free, and some will be part of my Patreon page that i am building. I hope these will be helpful to anyone.
__
First patch:"Blue wheel of fortune".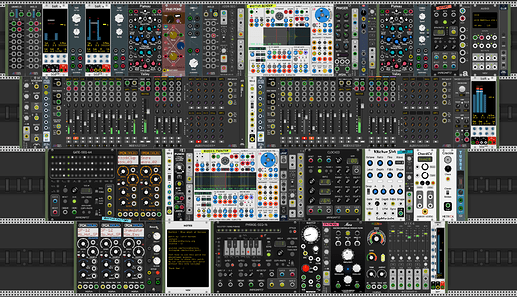 Grab it here this one is free.
This is some sort of trip-hop / acid-hop kinda patch?!

It involves several advanced techniques and styles that might be of help for you. Feel free to ask any questions.
View it in action here:
Special shout to @synthi & @pyer for the always inspiring Simpliciter module!

plugins used
MindMeld: 
    MixMasterJr
    AuxSpanderJr
    Unmeld
    Meld
    BassMasterJr
Impromptu: 
    Clkd
    GateSeq64
    Clocked
    PhraseSeq16
stoermelder: PackTau
    MB
QuantalAudio:
    Blank Panel | 1HP
NYSTHI:
    SimplerTapeControl
    Simpliciter
Bogaudio:
    S&H
    1:8
    MIX4
    ADSR
    LLFO
    ADDR-SEQ
    LVCF
VCV: Fundamental
    Sequential Switch 2
stoermelder: PackOne 
    µMAP
    GLUE
Valley: 
    Plateau
mscHack:
    Ping Pong
Befaco: 
    EvenVCO
Rackwindows: 
    Tape
    Console MM
    Chorus
Vult: Vult Modules Free 
    Punch
Bidoo:
    baR
    mINIBar
Hora: PCM Drum 
    PCM drums
Hora: Processors Free 
    Vacuumba
LindenbergResearch:
    Alma 24dB/oct ladder filter
23volts: 
    Merge8
Count Modula: 
    Boolean VC Inverter
AS: 
    Reverb Fx
Autodafe: 
    Clock Divider
Tiny Tricks: 
    Sine Oscillator
MSM: 
    Phaser
Squinky Labs: 
    FM Kitchen Sink
Aaron Static:
    ChordCV
HetrickCV: 
    Crackle
Mockba Modular: 
    Tuube

This list was made using the new CHOW module called: Credit
Thanks Jatin!