The HexSeq (and HexSeqP) is a trigger sequencer that can create patterns of length 64 in multiple of 4. It works really well as a simple clock divider if you need many different divisions. HexSeq outputs up to 12 simultaneous clock divisions, and HexSeqP up to 16. It also is very kind to your CPU
Programming a clock division is as simple as specifying a string of hexadecimal characters that specify a bit pattern that represents a trigger every Nth clock pulse.
There are three ranges of division coverage density:
1-16 - All integers
18-32 - All even integers
36-64 - All multiples of 4
Here is an image of a simple patch that provides a huge variety of common musical divisions. I opted to use Impromptu Clocked as it readily shows the math behind the construction. But you can substitute any clock that provides 24 ppqn, with additional outputs for your bar and phrase clocks.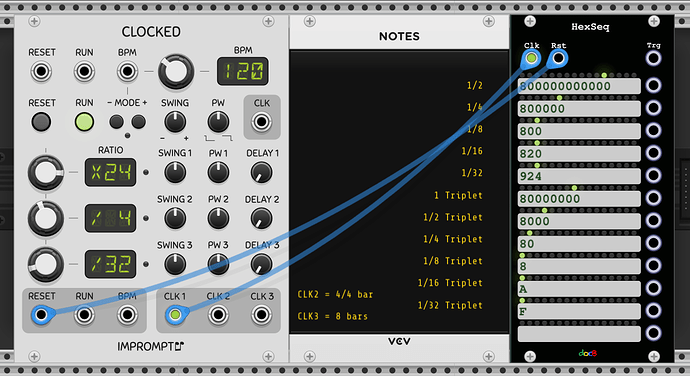 In the patch above with 24 clock pulses per quarter note:
1/2 note = 1 trigger per 48 clock pulses
1/4 note = 1 trigger per 24 clock pulses
1/8 note = 1 trigger per 12 clock pulses
1/16 note = 1 trigger per 6 clock pulses x 2 iterations for a multiple of 4
1/32 note = 1 trigger per 3 clock pulses x 4 iterations for a multiple of 4
whole note triplet = 1 trigger per 32 clock pulses
1/2 note triplet = 1 trigger per 16 clock pulses
1/4 note triplet = 1 trigger per 8 clock pulses
1/8 note triplet = 1 trigger per 4 clock pulses
1/16 note triplet = 1 trigger per 2 clock pulses x 2 iterations for a multiple of 4
1/32 note triplet = 1 trigger every clock pulse x 4 iterations for a multiple of 4