I've been working on a few different modules over the past few months, but haven't gotten any of them in a releasable state. To break that trend, I'm releasing this module in an alpha state. Functionally it is essentially complete, but it is lacking a display widget that is going to take some time to implement as I envision. So, rather than keep it under wraps, here is the source and builds for your enjoyment.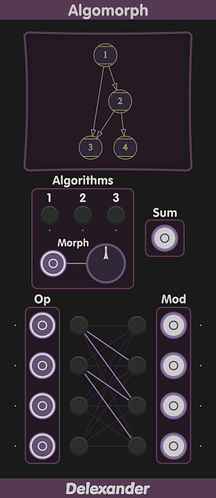 Algomorph is a VCV Rack module for constructing FM algorithms using up to 4 operators.
It is intended for use in conjunction with oscillators capable of linear through-zero FM such as Bogaudio FM-OP, Nysthi µOPERATOR/TZOP, and Squinky Labs Kitchen Sink.
It allows for reconfiguring an algorithm using only button presses rather than having to rewire cables. Eventually, it will also have a pretty display in order to visualize the current algorithm (the display in the image above is a mock-up).
More interestingly, it allows for storing up to 3 different algorithms which can be instantly recalled by pressing the buttons labeled 1, 2, and 3.
Further, it features a Morph knob and CV input which allow for cross-fading between the stored algorithms.
Getting started:
Connect the output of up to four operators to the Operator Inputs.
Connect the same number of Modulation Outputs from Algomorph to the linear through-zero FM inputs of the operators.
Connect the Sum output to your audio device or a mixer. This output delivers the sum of all carriers.
Press an Operator Button followed by a Modulation Button to connect one operator to another. Repeat until you have built a desired algorithm.
After you have finished building your algorithm, press Algorithm Button 1 or 3 to build new algorithms.
The Morph knob allows for cross-fading between the stored algorithms:
12 o'clock is the currently selected algorithm,
7 o'clock is one algorithm to the left, and
5 o'clock is one algorithm to the right.
The CV input can also be used instead of (or in addition to) the knob, accepting +/-5V.
I am surprised to find that an audio-rate oscillator patched into the Morph CV input, when tracking the same V/Oct as the operators, creates a pleasing result: seemingly something like a 4th algorithm related to the 3 component algorithms.
Builds for Linux, Mac, and Windows are available. To install one of these, follow these instructions.