I'm working on the default template patch which is loaded the first time Rack is opened and every time you choose "File > New" (unless you've saved your own template with "File > Save template"). Its purpose is to show off many of the new Fundamental modules and give a good first impression of the sound and flexibility of Rack to modular beginners and experts. This patch is of course based on a common vintage mono subtractive synth.
template.vcv (12.4 KB)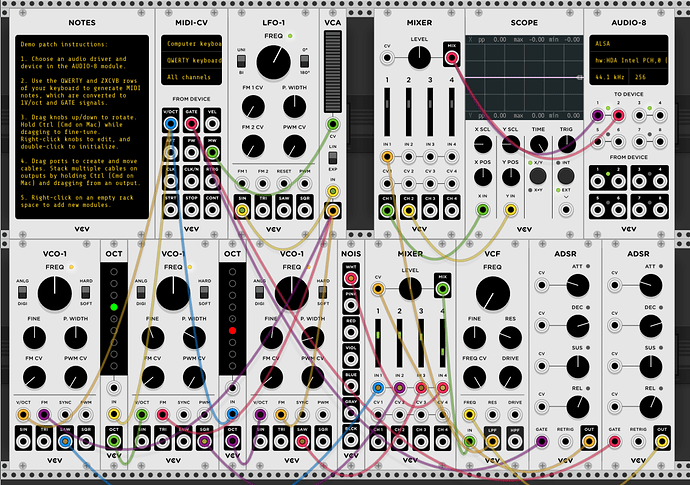 Some notes:
Ignore the cable colors, we're working on that.
I made this on my laptop at home. I need to test it the next time I'm in the studio to make sure the knobs are in the best positions.
We will release a new module VCV Audio-2, a simplified audio module with a built-in master knob and VU meter, and use it for this patch.
I'd like to improve the Fundamental VCF model, but it might be a year from now.
Fundamental VCO is fine, but at some point I'd like to replace the analog oscillator with a model of the Minimoog oscillator or Doepfer A-110-1. Right now it's a fictional model. Won't be ready when Rack 2.0.0 releases either.
If you load this with Rack v1 and switch MIDI-CV to polyphony mode, you will only hear noise when the first poly channel is being played. This is a bug in VCV Mixer that has been fixed in Fundamental 2.0.0.