I removed the Community link from the header since the site header was too large on mobile. You can access this forum by clicking "Support" and then "Community forum", or by clicking "Forum" at the bottom of the page.
I've also noticed that many first-time and experienced users are asking customer support questions on the forum, when they should instead contact VCV Support. I suppose that customers were seeing the Community link before the Support link and assuming that this is an appropriate place to ask customer support questions, such as VCV account help or reporting Rack bugs.
Hey @Vortico I love that you are continually trying to improve the experience for people for VCV rack.
Might I suggest some more improvements? I think you can get the header bar on mobile down to one line if you move Log Out into the Account tab. And move the manual inside inside the support page and rename it to Help. I also played around with the padding and shrunk the logo so things feel better on mobile. This leaves room for a "Forum" tab which leaves access to this forum more prominently on the page. I know I use it quite frequently and I think burying it will in general reduce the reach of this forum. I'd be happy to send you the CSS file for this if you want. I know working in CSS can be an annoying job.
As a side note, as someone who's replied to support issues on the forum and told people to email support@vcvrack.com, I don't mind doing that. I'd rather have more people visit the forum and have to reply to those messages, than not.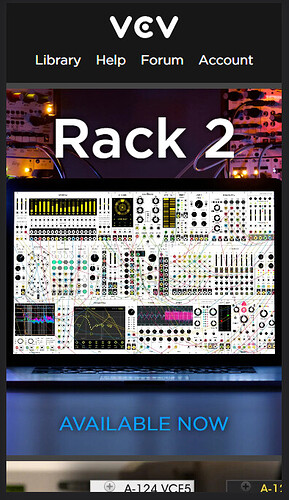 Also I think there are few things I call out on the support/help page.
First the email widget does not show up on mobile. Even on desktop its off to the side making it compete for your eye with the central column. If you want to direct people to email first I would put it at the top of the page, in the central column. I would also start the first paragraph off with a clear call to action and put the email link up front. I think the easiest way to do that is start it with "Email support@vcvrack.com for …" Finally I would move the community links to the bottom and put them under a clear header labeling them community support. As it is right now the forum link is the first bulleted link on the page, so someone skimming might jump there. Here is what that might look like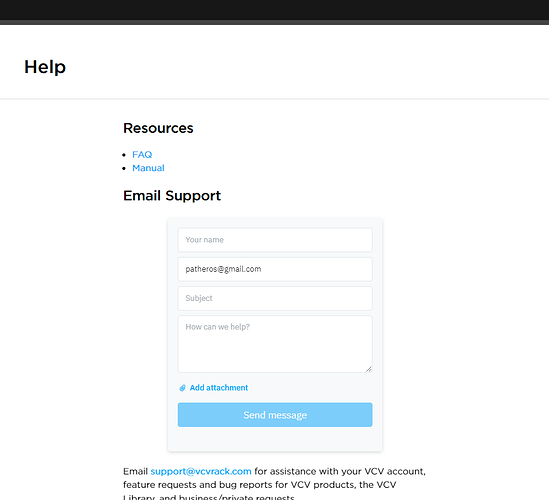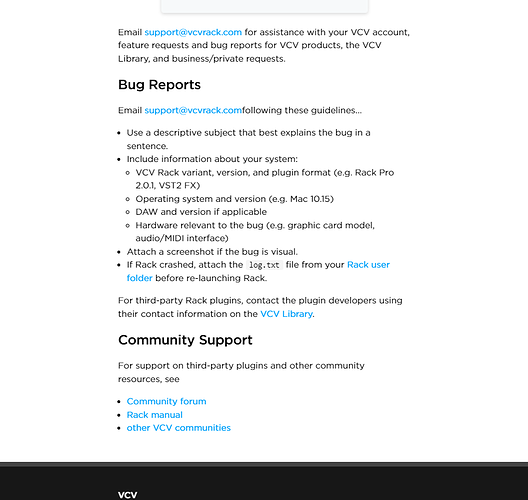 Hopefully you find all of this feedback helpful. Hopefully my tone didn't come off as too forceful. I just really love VCV rack and want to make it as awesome of a tool and place as possible.
I noticed that the 'Community' link in the top bar of VCVRack.com went away. I don't know what this means, but I am super lazy, so I used to type 'V' in the Chrome address box, which completed to vcvrack.com then click on community.
So much easier than to type community in the Chrome address box


@chaircrusher I merged your post and Paul's subsequent one to a thread that was already open regarding the same issue. Hope you don't mind.